Want to help your kids develop healthy digital habits? The Digital for Life Festival is the best place for them to learn through play!
Like it or not, interaction with digital devices is part of ours and our kids' lives – and their usage will only increase as Singapore moves towards becoming a smart, digital society. These digital tools – such as smartphones, tablets and apps – can enrich our lives by making information and services more accessible, educate our kids through e-books and e-activities, as well as keeping us connected no matter how far apart we may be.
However, digital technology also has the potential to cause harm to ourselves and others if used the wrong way (eg. cyberbullying, doxxing) or if we're exposed to too much screen time. That's why it's super important for us as parents to teach our kids how to use these tools safely and responsibly.
Not sure how to go about equipping your kids with digital skills to have their lives enriched through digital means, or teaching them positive digital habits to empower them to take on digital as a lifelong pursuit? No worries – we know of an upcoming event that can help you with this…
Bring the fam for a day out (or two) at the Digital for Life Festival
Organised by the Infocomm Media Development Authority of Singapore (IMDA), the Digital for Life Festival is the best place for kids (and parents as well as grandparents!) to learn about how to stay safe and well online.
The festival will be held from 21-29 May 2022 with both online and on-ground activities in two key locations at Suntec Convention Centre and [email protected] Expect to see webinars for parents on digital wellness, online storytelling sessions for the kiddos, coding and digital art workshops for both parents and kids, interactive activities created by Google, The LEGO Group, and more to teach kids about internet safety, and more! Here are some of our top picks of the festival's family-friendly activities.
1. Explore the online world safely at the Google Online Safety Park
Just like you, your kids are growing up to be a generation of digital citizens. At the Google Online Safety Park, your little ones can pick up tips on how to navigate the online world confidently, and how to stay safe while they're at it. They can kick start their journey at the Google Online Safety Park by creating a strong and secure password to enter and fill up their passbooks as they go along! Watch them explore the online world with confidence through 4 different game stations where they will learn about The Internet Code of Awesome. Don't forget to remind them to fill up the passbook and win a surprise!
When and where: Suntec Convention Centre (21-22 May, 10am -7pm) and [email protected] Atrium (28-29 May, 10am-7pm)
2. Make the online world a safer and kinder place together with Captain Safety
The Gloom is ruining the internet – and Captain Safety needs your help to get rid of it! This interactive game by The LEGO Group teaches kids (and adults) to use the internet safely while making the experience more fun and awesome! You and your kids will join forces with Captain Safety to stop 'The Gloom' aka bad vibes, so that everyone can have an entertainingly great time on the internet! So, what are you waiting for? Join Captain Safety's crew now and doom the Gloom!
Bonus: There's a free exclusive LEGO kit for every pair of parent-child participant while stocks last!
When and where: Suntec Convention Centre(21-22 May, 10am -7pm) and [email protected] Main Hall (28-29 May, 10am-7pm). Pre-registration required.
3. Design your very own computer games at the UOB x Central Singapore CDC's My Digital Bootcamp
Who doesn't love computer games? These digital bootcamp workshops organised by UOB and Central Singapore CDC for children aged ten to 12 will introduce the kiddos to the world of virtual reality and AI, as well as teach them how to design their own games! Sign up now and let your kid's imagination run wild as they create what could possibly be the next trending game in Singapore.
When and where: Suntec Convention Centre (21-22 May, 10am-12pm) and Enabling Village Classrooms 1 and 3 (29 May, 10am-12pm and 2pm-4pm). Pre-registration required.
4. Get started on block coding with Science Centre's workshops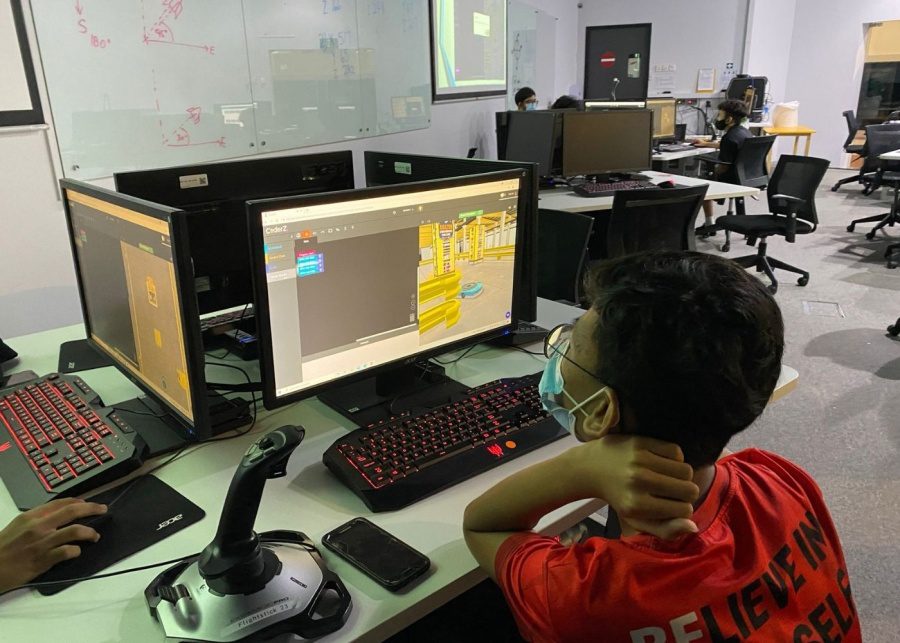 Science Centre Singapore will be hosting a series of one-hour workshops to introduce block coding to primary and secondary school children. With the increase in demand for software engineers and programmers in the job market, early exposure to coding can give kids a competitive edge. On top of that, coding can also help them improve their creativity, and develop their problem-solving as well as design-thinking skills.
When and where: Suntec Convention Centre (21-22 May) and [email protected] Function Hall #1 (28-29 May), various time slots available. Pre-registration required.
5. Unleash your creativity at the Artably Digital Art showcase
Got an aspiring artist at home? Head over to the Artably Digital Art showcase to show them how they can bring their ideas to life with PowerPoint! Kids will learn how to create digital art, including GIFs and social media stickers at this showcase, and parents can join in the fun too. Who knows, maybe you and your family can create NFTs using the skills learnt!
When and where: Enabling Village, UOB Ability Hub Hall 1 (29 May, 10am-6pm).
6. Learn how to manage screen time and be good digital role models at DigiPanion's webinars
We are our children's role models – this applies to how we use our digital tools and interact online. DigiPanion is running two webinars titled "Managing Screen Time while having FUN-mily Time together!" and "They are watching YOU! Parents, be positive Digital Role Models!" during the festival to teach parents how to manage screen time the fun way with strategies and tools, as well as understand how our child perceives our digital habits so we can be positive digital role models for our kids.
When and where: Online (23-24 May, 7pm-8.30pm). Pre-registration required.
7. Find out how to protect your family from online threats with Sophos
As useful as the internet is, it has its dark side as well. You can join Sophos' webinar titled "How to be Cyber-Secure to Protect Your Family from Online Threats?" to find out more about the potential online threats that your family may be exposed to, and through real case scenarios, and get tips on how to easily protect your family without needing to be an IT expert.
When and where: Online (23 May, 4.30pm-5.30pm). Pre-registration required.
Save the date and join the Digital for Life Festival in May
From equipping children with the right tools and skills to be enriched through digital means and embracing the digital future, to helping parents create a safe online environment for their children, you can find all these workshops and webinars at the Digital for Life Festival!
Check out the full list of activities taking place from 21-29 May on the festival's website.
Pro-tip: Sign up for the workshops and webinars that you want to attend ASAP as slots are limited.
See you there!
This post is in partnership with Digital for Life, an initiative by IMDA.