Stylist Hong Henwood of Affordable Style Files
Super stylist and mum Hong Henwood gives us a peek into her home and shares her insider tips for injecting personality into your home...
We love a bit of interior style inspiration here at HoneyKids. You know that cool concrete plant pot you've been coveting? And that graphic outdoor rug? Oh, and those amaaaazing cushions emblazoned with tropical leaves? There's one woman to blame for that growing list of must-haves for your home: Hong Henwood, stylist and creator of Affordable Style Files. Hailing from Brisbane and now based in Singapore, she's an Instagram star who dishes out daily style inspo that makes us want to spend our days lounging in cane swinging chairs… or hanging out on eye-popping floor cushions… or redecorating our kitchen in copper and marble. Her signature look? An effortless mix of mid-century forms, monochrome and a healthy dose of tropical vibes. It's no wonder she's such a Singapore fave.
Beyond designing and styling homes, Hong has just launched her own retail adventure in Dempsey in conjunction with Flower Girl Singapore, so now we can all get a piece of affordable style – from those cushions by SquareFox Designs, to Pop & Scott plant pots and black-and-white pieces by Art Club Concept. And pssst, she'll be sharing her hand-picked goodies from Australian designers at the spring edition of Boutique Fairs this 11-12 March!
This unstoppable mum of two gave us a peek into her home to reveal her tips on creating your own gorgeous space.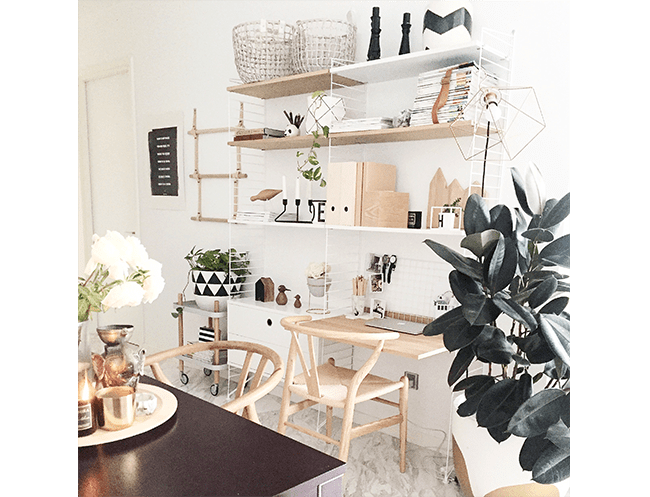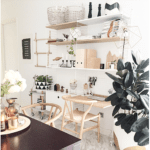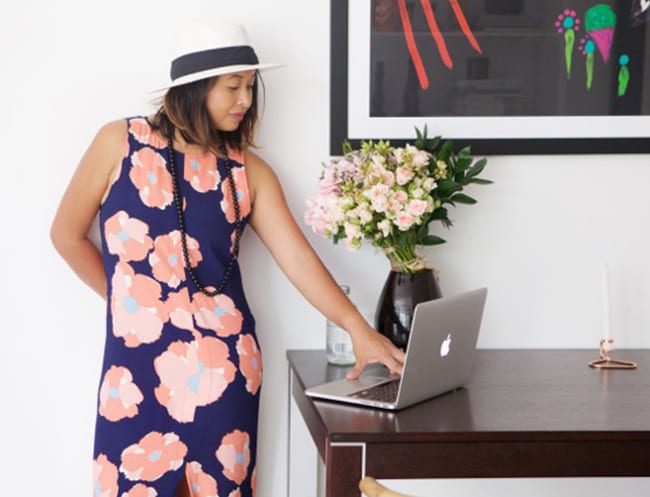 What brought you to Singapore? What do you love about living here?
Initially my husband's job took us to Singapore, but now I have my business based here too! I love the mix of cultures and the variety of different foods to try.
Tell us about ASF in a nutshell…
It was born out of my desire to create homes and style homes on a budget and to give each and every space that designer look without sacrificing style. Everyone's budget is different and I wanted to show how you can also mix designer with vintage or seconds to create a new look! It's also a lifestyle page that documents my favourite recipes and locations to visit!
You create gorgeous homes for clients and stunning spaces for clients: how would you describe your personal style?
I love a mix of mid century design with modern edges and a touch of Scandinavian design.
Has your style changed since moving to Singapore?
Yes and no. I've embraced marble! I love the stuff now! I still love collecting pieces that I absolutely adore, but I now take much more time choosing them as we simply don't have the room for it all!
… and since parenthood?
I love being a mum. I love all things related to children's interiors and love to find my kids quirky pieces to add to their rooms. I have become more relaxed in my fashion style too. You'll find me more in ripped denims and basic tees, nowadays!
What are your top three tips to styling kids rooms in Singapore?
Buy big pieces that last! Invest in a great bed/ cot bed that grows with the child.
Change soft furnishing with the seasons.
Have fun and get your children involved. Make sure they enjoy their room as much as you enjoy creating it for them!
How do you keep the toys under control and organised?
I use a lot of baskets and great shelving. Lockers and also IKEA solutions!
What's your most treasured possession?
I love lots of my belongings. But my 1930s vintage arm chairs move with me everywhere. They were free from my next-door neighbour in Perth!
Best find?
See above! And also my daughter's desk which I bought for $40 off Gumtree!
Fave places to shop in Singapore?
I spend a lot of time in the Tan Boon Liat building. I love Joo Chiat and also trusty ol' Vivo city!
What are you swooning over right now (and where can we get it)?
I love great linens. French flax bed linens are my weakness! We spend so much time in bed that I think we should at least sleep on and with something that feels amazing. You can buy some through the us at Affordable Style Files.
We love your Insta pics of your deck. What are your golden rules for styling an outdoor space?
Use pieces that will last in this Singapore weather! Have fun with colours outdoors. Add green plants to your space (and our Pop and Scott pots are perfect)! Plastic mats are great for kids to sit on and also have meals at. We also sell these. Get furniture that fits the space. Don't overwhelm the space with too many items. Less is more!
What's the one thing many people miss when it comes to styling their homes?
Bringing their style and character into their homes. Often people see a look in a magazine and run with that. Try injecting pieces of you within the home too! This helps create a HOME! Also, try not to buy everything in sight. Sit down work out a plan with a designer and you will be able to have a clearer vision! This actually saves you time and money in the long term.
What is your favourite Singapore styling job, and why?
Black and white homes – they are so different and so quirky! It's great to bring modern touches to something so classic.
Visit the Affordable Style Files studio space at 6A Dempsey Rd, Singapore. 9-3pm Tuesday to Friday, and by appointment;  www.affordablestylefiles.com