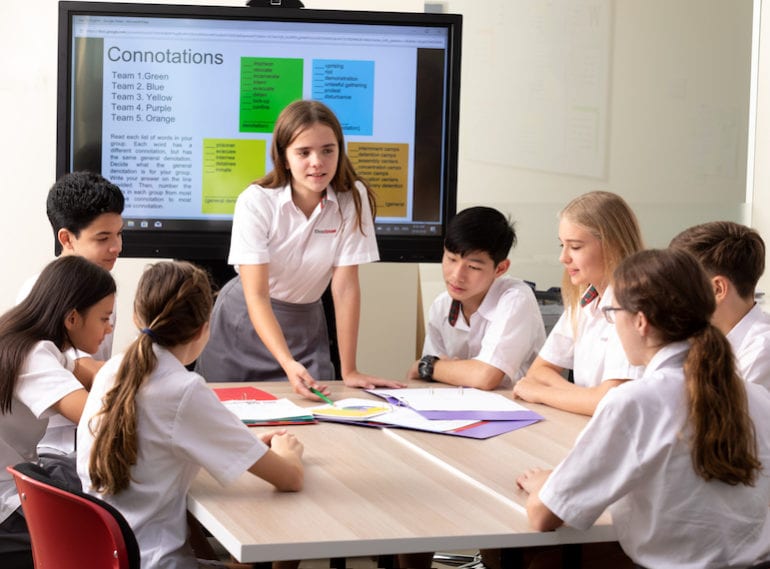 An innovative school with a flexible approach to the IGCSE? You'll get that and more at EtonHouse International School Orchard
Each child is different – which means learning needs to be personalised. Thank goodness for schools like EtonHouse International School Orchard with its cutting-edge curriculum that aligns with the teachings of a 22nd century education. How does it do it? By providing a SMART, flexible approach to the Cambridge IGCSE, innovative learning spaces and a very special teacher to student ratio, right in the heart of town. Does Etonhouse International School Orchard sound like your kind of school? Pop over to its Open House on 16 March! But in the meantime read on to find out what this fantastic school has to offer, and why it could be the perfect school for your children…
A SMART, flexible curriculum
To prepare its students for the 22nd century, EtonHouse International School Orchard offers a specialised approach to the Cambridge IGCSE. It uses a project based approach (inspired by Google's 20% time) where students can work on a Science, Mathematics, Art, Research and Technology (SMART) project of their choice. It also gives students the time to focus and take their exams whenever they're ready. In fact, last year one of EtonHouse International School Orchard's smarty-pants Year 9 students was able to score an A* (the highest grade one can get in the IGCSE) on her Spanish exam thanks to this programme! Woot!
Customised, project-based learning
All secondary students undergo a social emotional assessment, and the school encourages mindfulness and reflection. As a data-informed school, teachers are able to play the role of a coach and mentor, customising learning for the student. To simulate learning for the real world focused on fostering skills, the school invites lawyers, businessmen and simulate interviews and jobs for students.
Innovative spaces that encourage learning  
The lucky students (and staff) from EtonHouse were given the very special task of designing the classrooms of their dreams. The result? Super-cool, flexible learning spaces that encourage collaboration and innovation. Also, secondary and high school students are given the privilege to move between classrooms – after all, it's always great to have a little bit of change in your day.
A school where everyone knows your name
If you've been looking for a school that has a close-knit community, look no further than EtonHouse International School Orchard. Because of the limited amount of places offered in every year level, kids will never feel lost in the crowd. Instead, they'll be surrounded by friendly students and staff (and parents!) who all know each other by name.
A pathway through all levels
Unlike most EtonHouse campuses, EtonHouse International School Orchard offers an education pathway from primary all the way up to high school which allows for a seamless transition from one level to the next. And that makes it sooo much easier for our kids (and us too!) because we never have to worry about what happens come graduation time!
Want to learn more about EtonHouse International School Orchard? Head over to its Open House on 16 March, 9.30am – 12.30pm. See you there!
What: EtonHouse International School Orchard Open House
When: 16 March, 9.30am – 12.30pm
Where: 10 Tanglin Rd, #01-01, Singapore 247908
Perks! 
Parents who RSVP are entitled to 50% off the registration fee! RSVP here.
This post is sponsored by EtonHouse International School Orchard