Panda Pack: An oh-so-handy arts and craft subscription box for kids in Singapore
We admit it. We are crazy over box subscriptions (or maybe we're just lazy). No matter. From beauty products to organic snacks, you can get everything delivered to your door. We happily rip open the carefully curated boxes each time it arrives – it's like Christmas every month! This time we're opening a DIY craft box full of fun from Panda Pack. OK, it's for the kids really but we've experimented with the contents and can confirm it's just a little bit addictive for parents. Filled with cool items, each box contains two Panda Pack Craft Activities, a theme driven Activity Booklet and stickers and detailed instruction booklets that will help guide your kids along. Sorry Po (Kung Fu Panda), but there's a new Panda in town. Here's why we're subscribing…
1. Something new every month
The anticipation your child gets every month will definitely brighten up your day. Plus points if you no longer have to make a trip down to Toys 'R' Us. While spoiling your child may stir up a riot from your own parents, the educational benefits your child will receive from every Panda Pack should suffice.
2. Boosts confidence
Remember how proud you were when you made your first DIY pinhole camera? Or that time when your parents hung your painting on the wall for all to see? The sense of accomplishment your bundle of joy gets once they've assembled a craft of their own (i.e. a working clock they can admire in their bedroom) is totally worth it.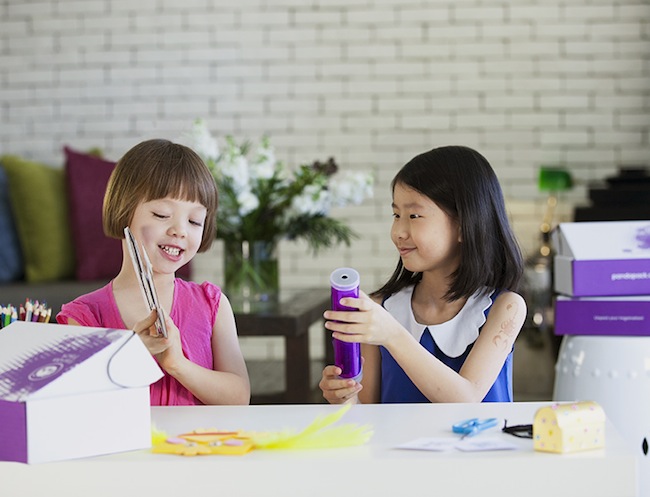 3. Great for Travel
Long plane rides are dreadful – more so for kids with an attention span as little as them. Panda Pack is the ideal travel buddy to entertain your child throughout the journey. They will be so engrossed, they won't even know they've touched down! Activities in Panda Pack are all neatly compact and can be easily packed in your child's carry on bag.
4. Ignites Imaginations
We love that there are no rules with Panda Pack. Children are encouraged to draw, paint and design their work, as they desire. Research has proven that problem-solving skills are developed from experimenting and creating through crafty DIY projects. All the more reason to harness the Picasso in them and get creative!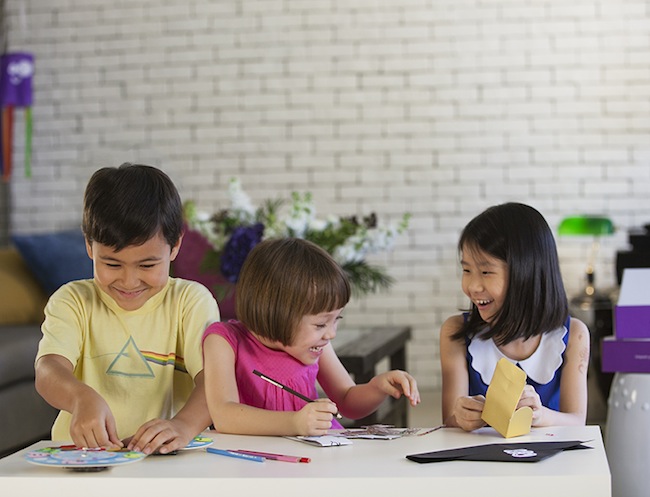 5. No-no to digital screens
What ever happened to building blocks? Now, even toddlers are happily tapping on tablets for fun. Okay sure, it's partly due to the rise of awesome child friendly educational app. But tapping on the screen just doesn't give the same satisfaction as building with your hands. Show your kids how fun is done before the digital age with good ole' handicraft.
6. Birthdays settled
It's quite surprising how many littlies birthdays are marked on our calendar! Jan, Feb, Mar – every month you're rushing to the toy store for the ideal gift. Never again! Don't you know? The P for Panda Pack actually stands for Perfect Pressie…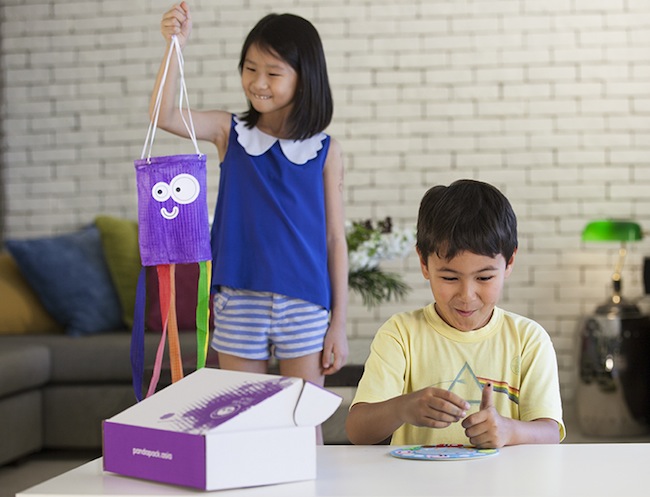 7. Spend time together
While most of the activities are seamlessly easy, it still good to have an adult involve, especially for younger ones. Bond with your child over Panda Pack and work together to make each craft come to life. Panda Pack comes with a themed story too, allowing you to have a fun storytelling session with your kid, thereby building communication.
8. Desire to learn
It's not all about art and creativity; each Panda Pack is designed to generate children's thinking ability too. Using fun activities to build numeracy skills and sharpen penmanship, the pack is intended to foster a love for lifelong learning.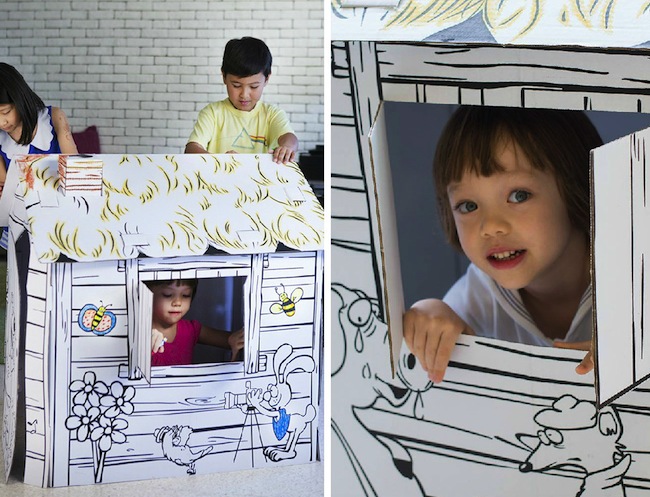 9. Fuss-free purchase and no delivery charges
Trust us – skip a sample and go straight for the 12-month subscripton. One click and you're settled for the entire year, with no extra charges! Besides, you'll receive a cool cardboard playhouse with every 12-month subscription.
10. Happy siblings
Got more than one child? Don't worry, you won't have to face any sibling bickering over who gets to have the Panda Pack each month. Simply add on a sibling extension that's priced lower than the original Panda Pack.
Go get crafty!
Panda Pack can be purchased online at Panda Pack Asia. A one-month subscription costs $34.90, while a 12-month subscription costs $29.90. Suitable for children aged 4 to 7 years old.
This post is sponsored by Panda Pack.