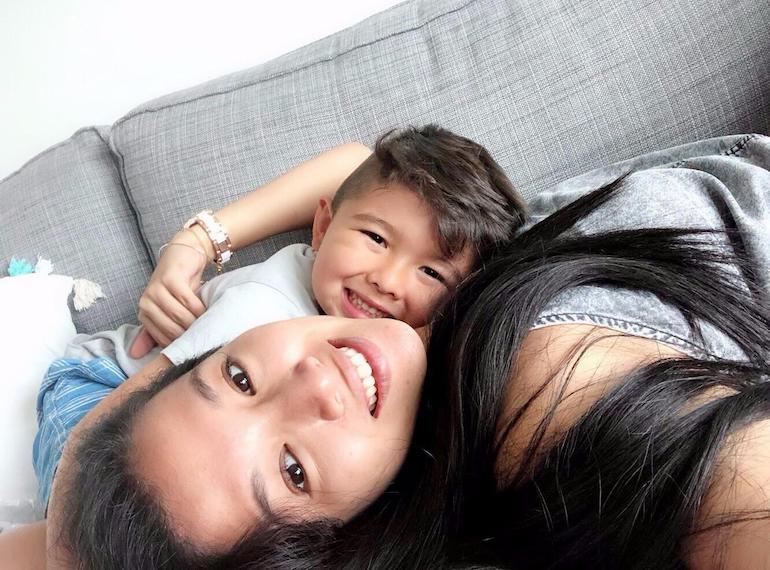 Nadia and her four-year old Callum. Photography: Nadia Chan
We speak to Nadia Chan, co-founder of Maiko Singapore, about pregnancy, motherhood and her career...
Motherhood is a whole career in itself, and but that certainly hasn't stopped Nadia Chan, mum-of-one, from pursuing her passion for business. Together with her sister, Sophia, this Hong Kong-born, Singapore-raised entrepreneur is storming the skincare industry with Maiko Singapore, a distributor for Australian-based beauty brand Canvas. We speak to Nadia to find out just how she's crafted her own recipe of success in business, motherhood and wellness…
Hi Nadia! Tell us a little about your family…
I have one son, Callum. He is about to turn five-years-old and already has a personality of his own. Family is a major part of my life and you'll often find me busy with school runs, birthday parties on the weekends and swimming (we spend a lot of time at the pool)!
Skincare hasn't always been your game, can you share a little about your journey to getting where you are now?
After I graduated from university, I took the first job I could get, which was at a local system integration firm in a predominantly male environment. When I found out I was pregnant with Callum, I decided to take a short break as I had terrible morning sickness. And despite how much I loved my job, I left the IT industry as I often had to entertain late into the night – something I really don't miss. During this break, I helped out at two family restaurants and then PR Communications offered me flexible working hours which suited a skillset I had previous experience in before uni when I did some in-house PR stints at CNBC Asia Pacific.
Fast forward four years into agency life and my sister Sophia and I were approached by an ex-classmate of hers to with an offer to distribute Canvas – an Australian skincare brand. Before we made our decision we gave the products a try, and were both immediately impressed with the benefits of the natural and organic products, and loved the aromatherapy element of the range too. So much so that we took a leap of faith! Honestly? Both of us would say this was one of the best decisions we've ever made!
What's the toughest thing about juggling motherhood and running a business?
Both require time and attention, and it is difficult to focus on both and do well. But as Callum and I are very close, we spend time together reading bedtime stories and sharing what went on during my day at work and his day at school before I put him to bed. Sometimes when I am preparing our customer orders or stock taking for Canvas, I will also try to get Callum involved as this helps with his counting skills.
What's one thing you've learnt from motherhood that's helped you to run a business, and vice versa?
Motherhood has taught me gratefulness. I have had days that are long and tiring, but when I get home to spend time with Callum, he reminds me to see the good in all situations and be grateful. In terms of business, sometimes I wonder why I put myself through so much, but then I get reminded of how Canvas has given me such a wonderful opportunity to share the importance of maintaining a positive well-being and practicing mindfulness every day. 
Watching Callum grow up has also taught me perseverance. In scary situations, for example, when we are at the playground and the height of the equipment is a little daunting for him, I see him overcoming his worries and pushing on in the face of adversity: this makes me so proud! This sense of determination helps me apply the same to my business, and really makes me see the importance of stepping outside of my comfort zone and pushing myself above and beyond. Personal growth is key in life. I am happy to say that I'm now more open to taking a leap of faith, thanks to Callum!
How do you find a work-life balance?
It can be challenging but I am proud to say I have finally found the solution to a work-life balance. Besides proper planning and setting out specific goals for myself every week, I establish boundaries between both spheres – personal and work – which is essential in helping me to focus and give my 100% attention in whatever I do.
When I am with my son Callum, he has my 100% attention, and when I am at work, I am focused either on giving our agency's clients the best and/or discussing future strategies for Canvas. When your heart is in it, half the battle is won.
How do you make time to relax?
I believe no matter how busy our schedules are, we will always have time to do something, if we are willing and we put in the effort to do it.
My 'me-time' happens once Callum has gone to bed. I will read a book, put on something to watch or fit in a quick gym routine. Either way, I make it a point to spend time with myself at least twice a week. I also love going on short holidays with my friends or meeting them for a quick after work meal. I make it an annual ritual to at least go on a one-week holiday with my girlfriends. It helps me appreciate the time that I have with Callum and gives me the opportunity to recharge and be inspired to work even harder when I'm back.
Finally, do you have any advice for mums who want to pursue business?
Just do it! If you know in your heart that you want to start a business that you're passionate about, that's half the battle won.
I also feel that having personal goals as mothers will also help you teach your children a very important lesson – that is to never diminish any dreams that they have! YOU are the best example your children can look up to so if you have it in you, don't find the excuses for yourself to not do it but instead, find ways to cope with your current situation and take baby steps to make the business dream happen!
Thanks Nadia! For more on the Canvas skincare range – which are based on a combination of organic plant species and aromatherapy oils, head over to Canvas for the full scoop. 
.Like this story? Here's more we think you'll enjoy:
Mum-of-two Kat is our go-to hairdresser of choice
Meet our 'new' editor, Tracy Tristram!
Same sex parenting in Singapore: the trials, joys and tribulations
Prima ballerina Irina Kolesnikov is your regular dancing mum
Don't forget to subscribe to our weekly newsletter and follow us for sneak peeks and fun moments on HoneyKids Instagram!