Literally cool things to do in Singapore when it's hot hot hot outside.
Escape the heat at these cool spots around the island (we even found snow!)
Singapore is so hot right now, and not in the way that Mugatu says it about Hansel in Zoolander. And when that mercury soars, sometimes you just want somewhere to chill that is not a shopping mall. So where can we go to beat the heat? Sure, you can always hide out with the kids in one of Singapore's amazing indoor play centres, but let's broaden our horizons a little. Read on for literally the coolest places to hang out on the island…

Snow City
Let's not mess about, this has to be the coldest place in Singapore, surely? Don't pack your skis or snowboard though, this is a slope for sliding on rubber rings. Off piste, catch the Snow Blizzard Experience in the Snow Chamber and the Liquid Nitrogen Experiment.
Snow City, 21 Jurong Town Hall Rd Singapore 609433, p.6560 2306; www.snowcity.com.sg
MBS Skating Rink
For those of you who fancy a spin around a skating rink but without the cold, Marina Bay Sands offers just the thing. Its rink is family-friendly and suitable for all levels of skating prowess from novice to intermediate.
MBS Skating Rink, 10 Bayfront Ave, Singapore 018956; www.marinabaysands.com
Flower Dome and Cloud Forest, Gardens by the Bay
We never get tired of Gardens by the Bay, or that rush of cool air when you enter the Cloud Forest right beneath that amazing waterfall. Don't forget to bring a light scarf or cardigan! The soaring roof, wide paths, beautiful plants and cool temperatures of the Flower Dome have us returning every time there is a new exhibition on (right now, it's Tulipmania!). Our collection of kids' photos taken with various props at the Flower Dome now includes: standing in a pair of giant clogs, throwing fake snow (not sure we were supposed to do that), and trying to ride a goat made of plants.
Gardens by the Bay, 18 Marina Gardens Drive Singapore, 018953; www.gardensbythebay.com.sg
Climate Change Exhibition, The Science Centre Singapore
Okay, technically this is no colder than any other air-conditioned place in Singapore. But, at this permanent exhibit at The Science Centre Singapore, you can help the kids learn about climate change and its effects without breaking a sweat. Play the Climate Machine to understand how carbon heats up the atmosphere and what we can do to reduce it. Visit the Cloud Maker and learn the difference between cumulo nimbus and stratus.
Climate Change Exhibition; 15 Science Centre Rd, Singapore 609081; www.science.edu.sg

Port of Lost Wonder
While this is outdoors, nearly every time we've been here we've managed to get a chilly feeling. In a good way. After an extended period getting soaked by slides and buckets and hoses, we're feeling cool and relaxed, especially if we go late afternoon and a breeze comes up from the Sentosa shore. Want more spots to splash around when it's hot outside? Check out our guide to free water play parks in Singapore!
Port of Lost Wonder, Palawan Beach, Sentosa; www.polw.com.sg
The Daily Scoop
Ice cream. Obvious, isn't it? This if-you-can't-beat-em-join-em solution actually makes us grateful that it is so darn hot here. Without such an excuse we'd find it difficult to justify our frozen sweet dairy obsession. Plenty of places to get it, but we like the selection and surroundings at The Daily Scoop, Chip Bee branch. Upsize with a sprinkle cone. Want more ice cream parlours to add to your repetoire? Check out our guide to Singapore's best ice-cream stores. 
The Daily Scoop, #01-78 Chip Bee Gardens, Singapore 278115; www.thedailyscoop.com.sg
Ice Skating at Kallang Ice World
Head to Kallang Ice World to whizz around on a competition standard ice rink for some ice-skating fun. Skate hire is available on site, and there is a spectators gallery for those who would rather watch than whirl!
Kallang Ice World, 5 Stadium Walk Singapore 397693; www.leisurepark.com.sg
Cool Zone, National Orchid Garden
It's a pretty escape, visiting this national emblem. While it can get a bit hot with all that uphill and down dale in and around all the displays, if you end up at the Winter Zone you will be rewarded with mist and cool air.
Cool Zone, National Orchid Garden, Central Core of the Singapore Botanic Gardens, 1 Cluny Road, Singapore 259569; www.nparks.gov.sg
Urban Ski
Skiing and snowboarding in sunny Singapore? Bring it on! Urban Ski provides ski fun for kids as young as four year on its indoor rotating ski slope. Skiers and snowboarders of any level can learn, improve and perfect their technique without having to travel to far-off lands for ski season.
Urban Ski, Millenia Walk 9 Raffles Boulevard #01-46/47/48/49 Singapore 039596; www.urbanski.com.sg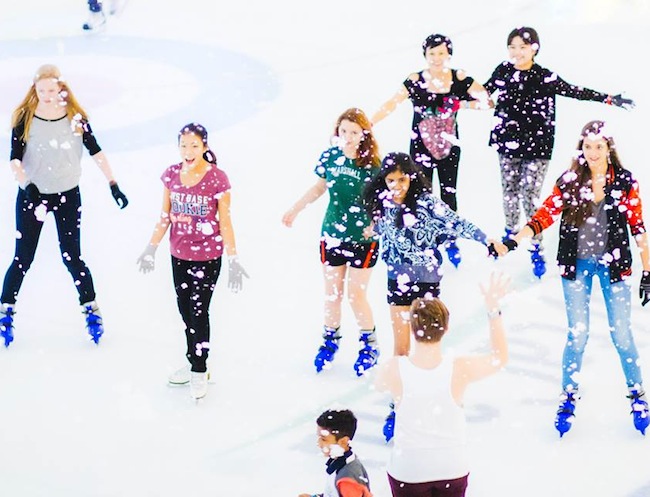 The Rink at J Cube
Normally we like our ice in a drink. But we make an exception for this Olympic-sized solid slab because it's just so much fun. We spend most of our time on our backsides so in addition to those penguins designed to make unbalanced kids glide, there are seals and snowman for older kids and adults. Yes, we look a bit silly but at least we stay dry!
The Rink, 2 Jurong East Central 1, Level 3, J.Cube, Singapore 609731; www.therink.sg
Far East Flora cold room
What we really need right now is a big fridge. If you need to purchase some flowers for a friend, your house or your husband (please let us find an excuse!), you can add an element of adventure to the task and bring the kids here instead of just hitting up Cold Storage. And you will benefit from a hit of sweet scents care of freshly cut blooms and foliage.
Far East Flora, 565 Thomson Rd, Singapore 298184; www.fareastflora.com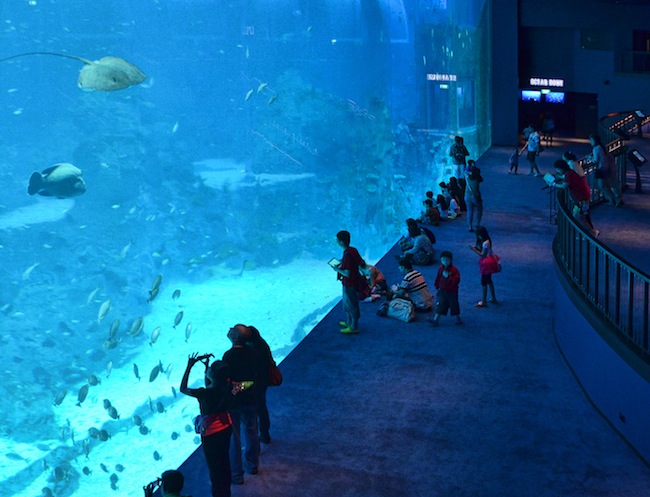 S.E.A Aquarium
There's something about walking beneath the cool blue sea and seeing sea life swim above that brings on instant calm and helps you forget the blistering heat outside. Of course, the best bit is just sitting and watching rays and sharks glide by in the Open Ocean section with its floor-to-ceiling glass and massive viewing platform.
S.E.A. Aquarium, 8 Sentosa Gateway, Sentosa Island, Singapore 098269; www.rwsentosa.com
Picotin Express
One of our favourite places for a Sunday family lunch, this is one of the best spots we know of in Singapore where you can catch a breeze. You're not going to feel cold by any stretch, but the odd bit of wind that whisks up the fairways combined with ceiling fans and chilled beer makes this a relaxing spot. The $15 kids' set menu (pizza, juice and ice cream), followed by mini golf, is a winner. Check out our guide to Singapore's best family-friendly restaurants and cafes for more of our favourite weekend hangouts.
Picotin Express, Green Fairways Golf Course And Driving Range, 60 Fairways Drive, Singapore 286966; www.picotin.com.sg
A day at the movies
Okay we might be getting more than we bargained for here, because Singapore cinemas are notoriously icy. Gold Class at Golden Village is the best way to do it, with big comfy chairs to sink into and all the trimmings. When it's really just too hot to do anything that requires movement, retreat to your nearest big screen armed with something to keep you warm. How ironic.
Golden Village, Various Locations; www.gv.com.sg/GoldClassHome
Need even more ideas for things to do when you need to escape the heat? Our list of 100 indoor activities in Singapore for kids should keep you busy!
Photography top image: The Daily Scoop