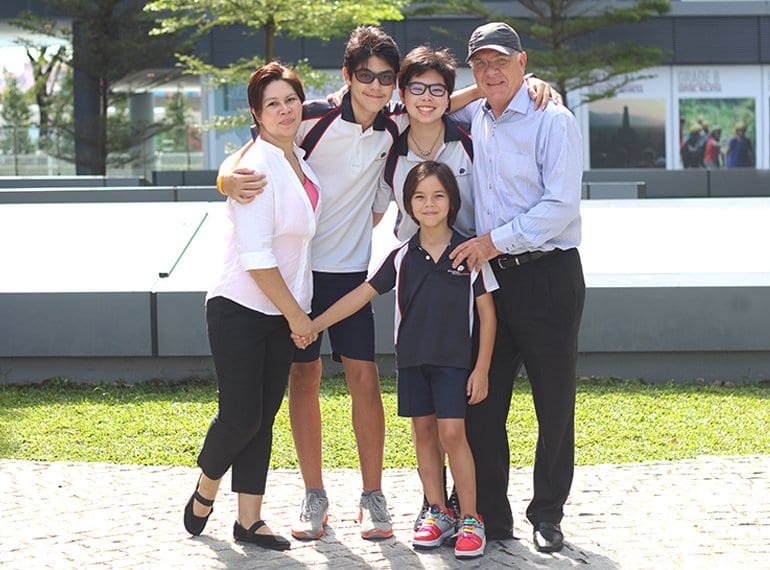 For expat families who are moving across the world to Singapore, picking the perfect international school for your children can be mind-boggling. With so many options, how do you know which is the best for your kids? Besides a well-rounded IB program focusing on inquiry-based learning, Stamford American International School places utmost importance on building a diverse and welcoming community for both students and parents, and this has attracted families like the Kleisses. Here, we speak to Thom and Willyn Kleiss, whose three children are currently students at Stamford American International School.
Can you tell us about your children attending the school?
Lexi, our eldest, is in her final year (Grade 12) at Stamford American International School and preparing to study art and photography in Hong Kong. Jan is in Grade 8 and Kian is in Grade 1.
What were the most important factors for you in selecting a school here in Singapore?
The fact that Stamford is an International Baccaleaurate (IB) school has helped in a smooth transition for our kids as they were already in the program before we relocated to Singapore. We were also attracted to the world-class campus and facilities, as well as the culturally diverse community of both students and staff. Our children feel right at home in the good mix of cultures and nationalities at Stamford.
How has the school lived up to your expectations?
Stamford has exceeded our expectations in a lot of cases – it has a good, stable and serious climate, but is fun and friendly at the same time.
What do your children like most about attending Stamford?
Besides the friends they've made, they enjoy the opportunities to learn different things. They appreciate the cutting-edge facilities and tools provided to them such as the 1:1 iPad and Macbook program. Plus, the diversity of students makes the children feel at home.
What sort of curriculum does Stamford offer?
Stamford is the first and only international school in Singapore to offer both the American and IB curriculum, so that's why we were attracted to it. Students at Stamford can graduate with an IB diploma or High School Diploma with Advanced Placement (AP) credits, or both. They also have a wide choice of IB and AP courses – over 40 IB courses and 20 AP courses.
Lexi got an early acceptance into two universities of her choice – one being Leeds College of Art (LCA). We heard that usually LCA doesn't offer acceptance through first interview, but Lexi got accepted right after her interview and we are really happy.
What advice would you give other parents trying to choose an international school in Singapore?
Choose a larger school as there are more opportunities, and consider your child's personality before opting for an IB or inquiry-based program as it might not be suitable for everyone. Look for the programs and languages they offer.
What do you value most about Stamford?
The diverse school population is celebrated, and students and parents from every race and religion are equally welcome. For example, Stamford hosts an International Fiesta annually to showcase all the different nationalities in the school. We also like the IB curriculum, which helps students develop as well-rounded people. There are always new things that are introduced to the students and we appreciate that. Students are encouraged to learn more about their topics of interest and learning is not restricted.
How do you feel about the school's level of communication and parental engagement?
The teachers communicate regularly with us about our children's progress. For instance, one of the teachers wrote me an email to compliment Lexi for doing really well in an oral test, which made us very happy!
This post is sponsored by Stamford American International School.