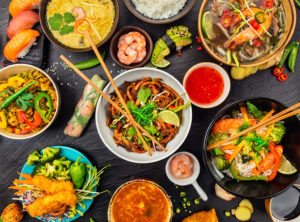 Eager to whip up your hawker favourites at home for your family? Let these cooking books lead the way…
We're no strangers to Singapore's best brunch buffets, but sometimes restaurants just can't hack it for us, no matter how appetising the menu or how amazing the kids' play area is. When we get a real craving for some home-cooked food, it's time to ditch the delivery app and head to the kitchen – stat. And with the best local recipe books written by Singaporeans for anyone who wants to try good food, what could go wrong?
MeatMen Cooking Channel: The Meatmen Favourites by The MeatMen
Dudes do hawker food
If you've seen their videos on Facebook and Youtube, you'll know that these guys know their stuff. Hop on any of their social media platforms and you'll be drooling in seconds over their gallery of cooking videos, which has more than 300 recipes you can filter by ingredients (goodbye gluten!). If you prefer perusing their recipes in print, check out their books, The MeatMen Favourites and Zi Char at Home, which features all your favourite hawker foods, such as sambal stingray and prawn paste chicken.The best news? You won't need any special equipment, or skills, to whip these dishes up as the recipes are fully dude proof (and dummy proof). This also means the husband has no excuse for skipping out on a cooking lesson!
$30 from Naiise
Plusixfive: A Singaporean Supper Club Cookbook by Goz Lee and Friends
Great for overseas trips
Great news! You no longer have to smuggle sauce packets and local goodies when travelling overseas to satisfy your comfort-food deprived soul anymore. Now chicken rice and curry chicken will always be at your disposal, as long as you don't leave home without Plusixfive: A Singaporean Supper Club Cookbook. Packed with over 50 recipes, illustrations, write-ups and contributions by Singaporeans, Plusixfive demystifies the common notion that Singaporean staples, like nasi lemak and char kway teow, are hard to whip up. Brilliant for the homesick – and those still gritting their teeth over cheap takeout Singapore fried noodles – the book also includes some gourmet recipes for those dinner parties.
$44.90 from Epigram books
Irene's Peranakan Recipes by Irene Yeo & Elaine Yeo
Recipes packed with mum's love
A literal labour of love, Irene's Peranakan Recipes is a collection of Irene Yeo's recipes that she compiled for her children when they were studying abroad. What the book lacks in illustrations and glossy photos, it makes up for with love. Each recipe is detailed meticulously with extremely precise cups, teaspoon and tablespoon measurements, so you have no chance of going wrong when cooking. We also love how each section has note pages for your shopping list, guest list and even graph paper to adjust serving sizes and, as Elaine notes, improvise and improve on the recipes. It's a book that thinks of everything, just like mum.
$22.90 from Epigram Books
Cooking with Indian Spicebox by Namita Moolani Mehra
Easy Indian food
Indian food is known for its wide variety and, admittedly, looks daunting to make because of the amount of spices it uses. With Cooking with Indian Spicebox, Namita makes preparing Indian food fun and casual with a meal to suit every occasion. Whether it's  brunch with the girls or dinner to impress the folks, Namita has got you covered with her recipes. There's even a chapter on kid-friendly meals to help you introduce "spicy" food to your little one. By the way, Namita has also published a cookbook for kids called The Magic Spicebox. This beautifully-illustrated book goes in-depth into the nine spices that typically appear in an Indian spice box, such as red chilli, coriander and black pepper and what kid-friendly dishes you can make with them.
$24.99 from Indian SpiceBox
The New Mrs Lee's Cookbooks by Mrs Lee Chin Koon and Shermay Lee
Just like Grandma used to make 
Adopted and shared by her granddaughter, Shermay Lee, Mrs Lee's Cookbooks are two volumes of pure Peranakan delight. Uncover the secrets of Peranakan cooking in the first volume, which is a collection of one-dish meals, curry tiffins and snacks. The second volume features a tasty mix of Chinese, Malay, Indian and Eurasian recipes. Each book contains anecdotes explaining where the dish originated from. The difficulty level of the recipes ranges to suit any experienced chef or cooking newb hungry for a good meal plus a comprehensive glossary of the various ingredients used and what they can be substituted for. Both books are available in Chinese and English.
$60 per book from Shermay's Singapore Fine Food.
Bonus:
Neon Laksa – Food Coloring Book
For the kids!
This will keep the kids busy while you whip up something tasty in the kitchen. Featuring over 16 pages of food drawings and patterns, the kids will be busy colouring everything from hawker food to traditional snacks, and learning about them along the way. By the time dinner rolls around, they'll be ready for noms. Even picky eaters won't be able to say no. Talk about whetting your appetite!
$14.99 from Neon Laksa
Like this story? Here's more we think you'll enjoy:
Where to buy organic food and groceries in Singapore
How to go gluten-free in Singapore
Everything you need to know to go organic
All the best butchers for barbecues