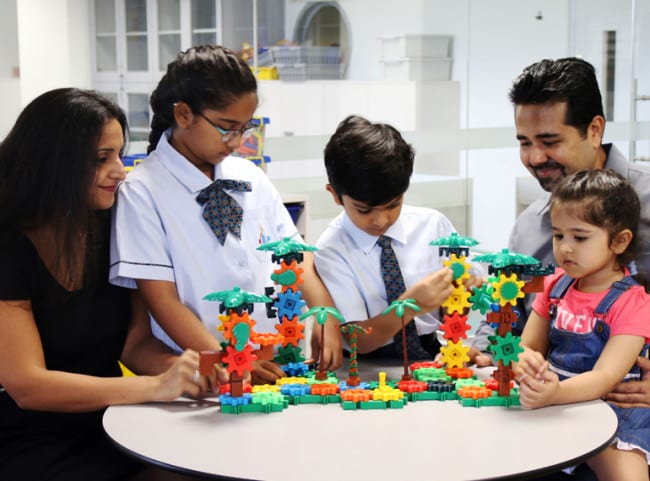 We chat with Alia Contractor, mum of three lucky kids who attend GEMS World Academy (Singapore). She tells us why her family chose the school and why they're so glad they did!
With such a broad range of international schools to choose from in Singapore, it can be tough to decide which one is right for your family. Like most big decisions in life, it helps to get the inside word from someone who's been there: what they value most about their chosen school and most importantly, what their kids think. Here, we ask mother-of-three Alia Contractor to tell us about her family's experiences at GEMS World Academy (Singapore). It's no secret: they love it!
How many children do you have?
I have three children: Zahra is nine years old and in grade four, Hassan is six years old and in grade one, and Amena, who's three, attends the parent-accompanied playgroup twice a week at GEMS World Academy (Singapore).
What made you choose to move to GEMS (Singapore)?
We thoroughly researched the many options in Singapore. Surprisingly, GEMS (Singapore) was the only place where initial questions by the school were about getting to know our children as individuals with their own unique set of aspirations and personalities.
We were also impressed by:
The general willingness of each member of staff to ensure a seamless transition into a new school, from the Head of School to individual teachers;
The emphasis on specialist areas such as PE, music, and art and dedicated science teaching even from a young age;
The possibility of enrolling the children into mother tongue programs of the parents' choice; and
GEMS' charitable contribution by way of providing affordable education to less privileged children around the world through the Varkey Foundation, which confirmed that this would be the best school to instill a strong sense of social responsibility in our children.
It stood out as a school that not only would help a child realise his or her potential but actually expand it by helping them discover other aspects where they might not have felt they could excel.
What do you love about GEMS (Singapore)?
What I love most about GEMS (Singapore) is how they infuse a 'can-do' mentality: it's a school where tiny three year-olds think nothing of performing regularly on stage in a large auditorium. My nine year-old, who was convinced by her previous school experience that she was not sporty was encouraged to not only try basketball, but be part of the silver medal winning school team. And my six year-old, who was rather shy, is desperately looking forward to playing the piano in front of a large audience at the school chamber music concert, despite having started lessons only a few months ago.
During our time at GEMS (Singapore) we have seen the teachers day in, day out, happy with their jobs. It's clear they love what they do and this translates into the children's positive attitude towards learning.
How have the ultimate judges – your children – reacted to the school?
Our children had been well settled in their previous school for a number of years and so we were anticipating some difficulties adjusting to GEMS (Singapore). But at the end of their very first day, both kids came home happy and excited about returning the next day, and this is still the case almost eight months on.
What do your kids really like about GEMS (Singapore)?
They particularly enjoy the highly interactive and creatively delivered lessons, the opportunities they have to participate in different performances and events, and the fact that they can try anything they like – such as joining a sporting team – without being judged on ability. My daughter Zahra has rediscovered a passion for art thanks to her amazing teacher, and my son Hassan loves his PE classes.
What's the most memorable event you've experienced at GEMS (Singapore)?
We have experienced a huge range of events at GEMS (Singapore), from thrilling sports fixtures and drama productions to extremely moving campaigns driving awareness of important issues and social causes. However, the one event that stands out is the UNITING NATIONS Celebration. Each and every student was thoroughly involved in this grand multicultural program; even the youngest (Pre-K) participated. The event was an incredible reminder of how diverse the staff and student body are in terms of nationalities and cultures yet we are all woven together into the fabric of this truly international school.
What do you and your family value most about the school?
Nothing seems to faze the kids thanks to their love for trying all things new, and the unique and wonderful can-do attitude they soak up at school! The school's approach evokes a sense of wonder and curiosity in our kids and above all, drives them on a path of lifelong learning.
Both Zahra and Hassan say that GEMS (Singapore) is a positive, "happy school" where even hard work seems like fun, thanks to the way it's delivered.
2 Yishun St 42, Singapore 768039, p. 6808 7300
This post is sponsored by GEMS World Academy (Singapore).