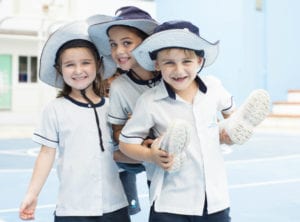 As far as international schools go, OWIS already has our seal of approval for its great curriculum and reasonable fees. A brand new campus is now in the works, with all to be unveiled very soon...
If there's one thing we know about One World International School (OWIS), it's a school that doesn't rest on its laurels. Not only does it serve up a top-notch IB curriculum at a moderate fee, the school works hard to build a community that cares and to reach out to kids who may be facing tough times. It's also been expanding its grounds for the benefit of students, which will culminate in the grand opening of the OWIS Nanyang Campus in January 2018.  We hear the new campus is filled with cool facilities, and can't wait to check it out! Here's what you can expect…
Learning 2.0
Spread out over 3.2 hectares, the brand new campus is looking very impressive indeed! We're talking an impressive range of indoor and outdoor learning centres, four levels of classrooms and administrative space, and 'hands on' learning spaces for studies in entrepreneurship, performing arts, visual arts, technology and robotics. Classrooms are also spacious and extremely comfortable for your little ones.  You'll even find specialty areas and creative spaces which provide a learning environment specific to the subject being taught.
At one with mother nature
While technology is a big part of learning at OWIS, the school acknowledges that it ain't all about being cooped up in a classroom. A deep appreciation of the natural world is fostered on campus, and this is reflected in the way the school is designed. In fact, you're greeted with the view of a picturesque green wall as soon as you enter the waiting area! The rest of the campus features a vast, naturally landscaped environment, with classrooms and corridors coloured in earthy tones. Little ones aged three to six can also enjoy a specially created nature kindergarten. There are plenty of outdoor spaces for students to run around and get active too, so you can guarantee your kids will get a healthy dose of sunshine and exercise.
A student-first mindset
Of course, the campus has also been built with its expanding student body in mind. The new school has the capacity to house up to 1,200 students all the way from preschool through to 12th grade. We know what you're thinking: does this mean large class sizes where my children will have to fight for the attention of their teachers? Not at all! OWIS limits its classes to just 24 students, and keeps its student-to-teacher ratio to a minimum. Your little learners will get plenty of attention and support to reach their fullest potential, and won't have to compete for the floor with tons of other pupils. Most importantly, OWIS is big on diversity and acceptance. Its huge international community means kids grow to appreciate a variety of backgrounds, cultures, and interests right from a young age. And let's face it, that's definitely something the world needs more of right now.
For more info on One World International School, visit www.owis.org.
This post is sponsored by One World International School.