Sometimes we just need to get out of the house... these classes for babies are the perfect excuse!
Looking for adorable activities in Singapore to take your baby to? When you've exhausted the favourite baby books and maxed-out the coffee fix at your mums' group, but you're still keen to get out and about, you need a class designed especially for your small person! We've done a whole lot of research for you here, and with a huge range of baby classes in Singapore, from music to yoga and everything in between, you're sure to find a weekly dose of fun for you and bubs.
YOGA
Kanga Kids Yoga
Envious of your baby's innate yoga abilities? Time to catch up! These classes, in which babies are welcome, are fun and relaxing. The folk at Kanga Kids Yoga keep babies stimulated with fun moves, props, and songs, while mums get busy with a basic stretch (creaking bone noises totally allowed). Kanga Kids has classes for crawling, standing and walking babies, as well as a mix of all three, with reasonably priced packages that will keep you coming back for more.
322 Joo Chiat Road, Singapore, e. [email protected]; www.facebook.com/kangakidsyoga
Inspire Mum & Baby
The weekly classes at Inspire Mum & Baby focus on relaxation and contentment for your little one, combining movement and touch to relieve stress and help you relax (which we know is a hard ask with a baby in tow!). Classes include infant massages, various postures and sensory interactions that can improve sleep quality (hurrah!). The classes are ongoing so you can start anytime you like.
Inspire Mum & Baby @ Tanjong Katong 188-2 Tanjong Katong Road, Singapore 436990; Inspire Mum & Baby @ Paragon (Central), 290 Orchard Road #14-11/12, Paragon Tower 1, Lobby F, Singapore 238859; www.inspiremumbaby.com/Babies-and-Kids/Baby-Yoga
SWIMMING

SWISH Swimming
Like yoga, young babies have an uncanny ability in the water, and are also dangerously attracted to water, so learning basic water safety, like how to float on your back, is not only a real life saver, but lots of fun too! You can organise private classes in your condo, or private pool, but if you're happy to venture out, we love the 'Mums & Bubs' classes in the saltwater (gentle on the skin) indoor and outdoor, slightly heated pools at SWISH Swimming (pictured top).
72 Loewen Road, #01-08, Dempsey Hill, Singapore 248848; www.swishswimming.com
aquaDucks
A swim program that caters to infants and pre-schoolers in Singapore, aquaDucks makes use of a unique blend of European, USA and Australian teaching methods. This child-centred swim class teaches kids to be independent swimmers who don't rely on floatation devices. We especially love how Aqua Ducks has small classes at eight different locations and gives plenty of one-on-one time for babies aged over six months.
43 Jalan Merah Saga #02-64, Work Loft @ Chip Bee, Singapore 278115, p. 6463 5554; www.aquaducks.com.sg
Little Splashes
It's safety first at Little Splashes. Pick up water safety tips and right-brain training for little ones as young as three months old through swimming.  Classes are conducted in its chlorine-free indoor heated swimming pool safe for all ages and skin-types. Little Splashes offers programs of 11-12 weeks in length and you can sign up for a trial class before deciding to commit.
Little Splashes Swim School, 300 Bedok South Avenue 3, #01-07, Singapore 469299; littlesplashes.com.sg
Inspire Mum & Baby
Inspire Mum & Baby starts by recreating the womb in your bathtub with its rather ingenious Bathtub Babies programme, for tiny humans up to three months old! It also has a weekly schedule at its East Coast pool as well as offering private classes at home for groups of six or more. The school also provides aquatic therapy, improves water confidence and aquatic fitness. Time to hit the pool!
Inspire Mum & Baby @ Tanjong Katong 188-2 Tanjong Katong Road, Singapore 436990; www.inspiremumbaby.com/Swimming
MUSIC
Muse Arts
At Muse Arts, tots aged from one to six years learn are introduced to original compositions (yep, no 'Old MacDonald' or 'Wheels on the Bus' here!) in a fun way. Songs are carefully selected to suit the age group's attention span, ensuring bubs and kids get the most out of the experience that they possibly can. Some of the classes are held at indoor playgrounds across Singapore, meaning you can also squeeze in some playtime while you're there!
61 Kaki Bukit Avenue 1 #06-06, Singapore 417943; www.muse-arts.com.sg
Mini Maestros
Aside from the cute name, we like Mini Maestros for its focus on building confidence while sharing music with little ones age six months to five years. There are four convenient locations around Singapore to choose from, and you can sign up to a three week trial or demo class before you decide to commit.
Pomo – The Little Arts Academy, 1 Selegie Rd, Singapore 188306, and 1 Marine Parade Central, Marine Parade Estate, Singapore 449408; www.minimaestros.com.sg
Jiggle Wigs
Jiggle Wigs is a favourite for its bright catchy tunes and loads of jiggly, wiggly instruments to play with. From scarves and shakers to parachutes and bubbles, there's opportunities for babies and tots aged seven to 24 months old to explore all kinds of things that can make music. It's 45 minutes of fun for both bubba and you!
Various locations, www.vivokinetics.com/jiggle-wigs
Musical Monkeys
Musical Monkeys is a good one if you'd like to get started early, as they offer newborn and even prenatal classes, including classes in German. Sing and dance with different instruments, and appreciate a new musical instrument from another part of the world every week: kompang from Malaysia or Rainmaker from Chile, anyone? It's a great way to bond with your kids, so be prepared to sing along, parents!
Various locations, www.musicalmonkeys.sg
The Amazing ToyBox
Boogie Bug Music by The Amazing ToyBox is a huge amount of fun for one to six year-olds (and parents too!). This home-based music playgroup is led by two fantastic musicians and songwriters. Former preschool teachers Mark and Reuben also hold Amazing ToyBox Concerts and all their songs are 100 percent written, composed and performed by themselves – Singapore's answer to The Wiggles kind of. They'll have your little one wriggling and jiggling along to the music in no time!
www.theamazingtoybox.com
Gymboree
At Gymboree, kids develop motor skills along with a good dose of music appreciation. From newborns up to five years, kiddos will join in with tummy time, flashlight play, games, storytelling and play-based activities. Prepare to jam!
19 Tanglin Road #04-20 & #04-21, Tanglin Shopping Center, Singapore 247909; www.gymboree.com.sg/music-classes
DANCE
Dancing Kids
Is there anything cuter than seeing a baby light up and wiggle to a tune? The music and movement class at Dancing Kids is loads of fun, with singing, dancing, and general mayhem guaranteed. Babies can also graduate to ballet lessons once they're over 18 months old. This is a dance school that comes to your condo function room, so you can even organise your very own dance sesh with friends right at home.
Various locations, www.facebook.com/dancingkidssg
Inspire Mum & Baby
For a class that's probably of more benefit to mum than baby (but we couldn't resist giving it a mention), check out Mum and Baby Dancercise at Inspire Mum & Baby. Pop your baby in a carrier or sling and get your groove on for an hour. Think of it as squeezing in a much-needed workout while you and your tiny dance companion have a good giggle.
Inspire Mum & Baby @ Eunos, 116 Changi Road, WIS @ Changi #02-08, Singapore 419718, and Inspire Mum & Baby @ Suntec, 3 Temasek Blvd, #02-728/729/730, Suntec City Tower 4, Singapore 038983; www.inspiremumbaby.com/Babies-and-Kids/Mum-and-Baby-Dancercise
GENERAL PLAY
If you're after a simple change of scenery and casual socialising whilst baby gurgles and plays without any structure, there are lots of lovely outings for you to choose from. We've put together a list of some of our favourites!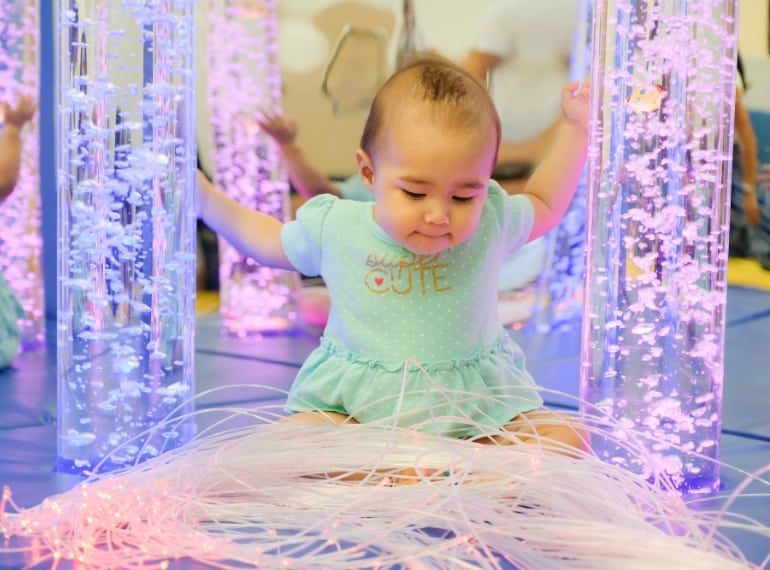 Tea & Tots
Get out of the house once in a while and let the tiny people age eight to 18 months take part in circle time, storytelling, sensory play, music and movement and arts and crafts – all in a 75 minute session! Held in the first boutique international school in Singapore, Integrated International School (IIS), tots a little older can head to the Reggio Emilia inspired drop-off programme, Little Tykes. Be sure to check out the Ocean Snoezelen Room for peaceful sensory pleasure and if you fancy a break from all the fun, you and the toddler can help yourself to tea and snacks.
Integrated International School, 41 Sunset Way, #01-01 Clementi Arcade, Singapore 597071; iiswebacc.wixsite.com/iisfoundations
Baby Sensory
Looking for some easy adventure and sensory play? Check out this UK programme for babies zero to 13 months old, and have fun with glowing balls, light shows, puppets, petals and even an underwater experience. There's also learning opportunities for parents to find out just 'how' and 'why' certain activities are good for a baby's development.
3 Temasek Boulevard, #03-374 Suntec City, Singapore 038983; www.babysensory.sg
Bubbles Gymnastics
Bubbles Gymnastics at Turf City runs 'Gymtots' most mornings for babies aged one to three years old. These one hour sessions are parent-accompanied and provide a good mix of free play and structured activities such as basic gymnastics, song and dance, and circle time. You can sign up to a whole term for unlimited weekday access to the gym.
200 Turf Club Road, #02-04 The Grandstand, Singapore 287994; www.bubblesgym.com.sg
Mucky Pups
Mucky Pups, for one to three year-olds, is a fun themed class where little ones can play games, paint, and hear stories all about upcoming festivals and celebrations one week and flowers the next. Throw in some bubble blowing and sing-alongs and baby AND you will want to keep on coming back! Helpers welcome if you need an extra pair of hands.
Various locations; www.facebook.com/muckypupstoddlers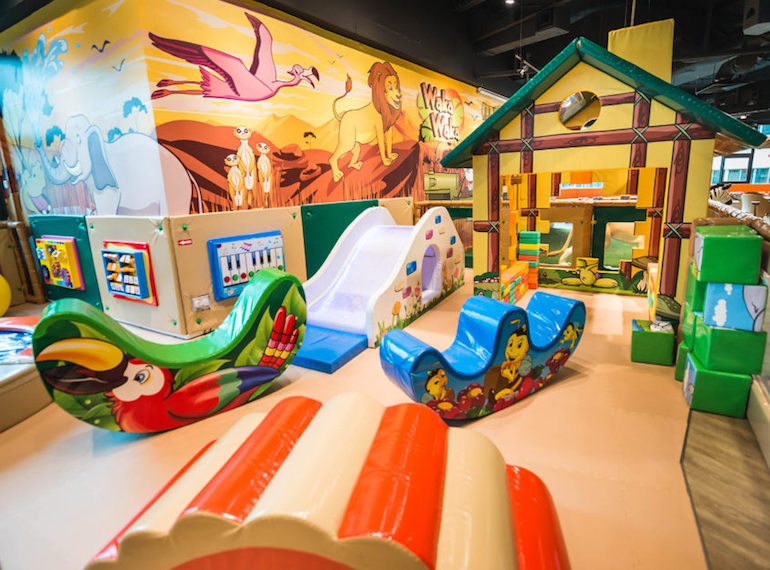 Waka Waka
Check out Waka Waka @ Annex Furama where the big kids can whizz around whilst those under 90cm have their own little space to explore. Filled with mini-slides, soft seesaws, play blocks, giant bouncing castle and bounce pads, the tots won't ever want to leave. The large cafe within the centre provides the perfect break for parents and kids alike.
[email protected], #05-01, 407 Havelock Rd, Singapore 169634; playatwakawaka.com/home
Centre Stage
Catering for the younger babies, Baby Stage at Centre Stage gives babies aged six to eighteen months a fun and colourful morning of play and exploration at Portsdown and the East Coast. They'll be able to play and interact with playmates of different ages and bond over soft gym equipment, tunnels and, if they've got the attention span for it, puppet shows and storytelling.
East Coast & Outside Venues; centre-stage.com/home/babystage
Blue House Nursery & International Preschool
Blue House has a range of classes and drop in sessions in their infant and toddler ateliers, including a 'Daddy & Me' class on Saturday mornings. Blue House's playgroup sessions have different themes where kids will be kept busy exploring their senses through activities such as storytelling, arts and crafts and strolls through the outdoor gardens.
Blue House Nursery & International Preschool, 2 Turf Club Road, #-02-05 to 08, Singapore 287988 and UE Square, 83 Clemenceau Avenue, #-01-35/36 UE Square, Office Tower, Singapore 239920; www.bluehouseatelier.com

Kindyroo
Babyroo at Kindyroo has a fantastic range of parent-accompanied programmes for newborns that include massage and movement. Each term is 12 weeks long so babies can move into new classes as they start to crawl and walk. So much playing to do, so little time!
18 Ah Hood Road #11-52, Hiap Hoe Bldg At Zhongshan Park Singapore 329983; kindyroo.com.sg/program
PIP's PLAYbox
PIP's PLAYbox at the Esplanade is an amazing space designed by Lekker Architects, a husband and wife team of Reggio Emilia devotees. It's a magical zone for kids of all ages with indoor and outdoor play including a loft, an arts and craft area, a reading corner with plenty of local reads. Drop-in is free, and keep an eye out for regular themed activities like storytelling and crafts. (Note: the space is closed from 2-3pm every day for cleaning).
Esplanade, Level 4, 1 Esplanade Dr, Singapore 038981; www.esplanade.com/pips-club/pips-playbox
Playeum
Drop in to Playeum at the Gillman Barracks from Tuesday to Sunday 10-6pm to play in an exciting space where art meets tinkering shed and sensory play! Catering to children from 1-12 years old, it's a divine space for the young and the old. The exhibit is refreshed every year so there's always something new to much about with. What's on right now? Check out our full review of the newest exhibit Going Play-ces!
47 Malan Road, #01-21/22/23, Singapore 109444; www.playeum.com
The Artground
Goodman Arts Centre has dedicated a space just for kids to not just admire art but play in it! The play area features rotating exhibits that encourage kids to interact and explore, including a little stage suitable for toddlers. Keep an eye out for workshops and events happening.
90 Goodman Road, #01-40 Goodman Arts Centre, Singapore 439053; theartground.com.sg
OTHER FUN STUFF
So you and baby have been for a dip, saluted the sun, sung and played your hearts out together. What's left? Plenty, it seems.
The Art Room
Create a ceramic hand or footprint as a cute little keepsake at The Art Room. You can make anything from picture frames, and jewellery boxes to plates, mugs and bowls, whatever you'd like!
One Commonwealth, #08-14, 1 Commonwealth Lane, Singapore 149544; www.theartroom.asia/#!baby-prints/ch3g
Create Ans.ein
Love your little one's artwork so much you'd wear it? Join a Footprint Workshop at Playfair Suntec and have bubba be your very own fashion designer. With the help of founder Anseina herself, immortalise baby's first steps into wearable works of art. These workshops are in high demand so book early!
3 Temasek Blvd, #02-721, Singapore 038986; www.ans-ein.com
Beauty Mums & Babies
Always wanted to learn how to do a baby massage? Learn about the benefits of baby massage for newborns and how to do it properly with a lesson at Beauty Mums & Babies. Brilliant for those with babies zero to six months old, and great for getting them (and you!) to sleep better at night.
Paragon, #14-11/12 The Paragon, 290 Orchard Road, Singapore 238859, and BMB @ BOVE, Suntec City, Tower 4, #02-728, 3 Temasek Boulevard, Singapore 038983; beautymumsbabies.com/product/baby-massage
Baby Signs Singapore
Get started on some early communication skills at Baby Signs Singapore and teach baby how to sign through games, songs and other activities. They'll be able to better communicate their needs with you and reduce the risk of incurring a frustrated bub.
Various locations, check website for details; facebook.com/BabySignsSingapore
With so many fun classes to check out, who's got time to stay at home?
Top image: Vanessa Clementson Creative at SWISH Swimming
Like this story? Here's more we think you'll enjoy:
11 best support groups for new mothers in Singapore
Paediatricians in Singapore: recommended doctors for kids
Where to buy your baby equipment in Singapore
Soft play areas you can chill out at with the baby
Don't forget to subscribe to our weekly newsletter for the latest updates on all things family-friendly and follow us for sneak peeks and fun moments on HoneyKids Instagram!