The bottle that grows with baby: Hegen containers convert to snack boxes and food storage for a lifetime of use.
New to the parenting game? Before you make the rookie mistake of drowning in baby stuff, take note: three of the coolest mums in Singapore are using one bottle system by Hegen to make their life easier. Parenthood – easy? You know they must be onto something good…
Agonising over what you should buy for your baby? We know the drill: over-researching products, getting tips from friends, ignoring them anyway and then accumulating five baby carriers/strollers/nappy bags etc. So we're going to give it to you straight: listen to the advice of your friends. Three of our fave mums in the know, food stylist Bella Koh (you might know her on Instagram as @catslavery), entrepreneur Rae Yun (@theramengirl), and travel editor Kelly Beckwith (@kelly_beckwith) let us in on how clever, multi-purpose Hegen bottles make their lives that little bit easier. Life is never the same after kids and we know every bit counts!

It doesn't matter how long you've been a mother: having a baby wises you up to a few universal truths:
* Motherhood is madness, and you need to find your method that works.
* You don't need so much stuff.
* Few things will bring you as much joy as a really good life hack.
While nothing is going to bring as much bliss as a new bundle of joy, we have to say that when it comes to bottle feeding and beyond, Hegen is making us pretty happy right now. We're also convinced the R&D team at this Singapore-born brand must be comprised entirely of mothers, because everything has been thought of in the creation of this clever bottle: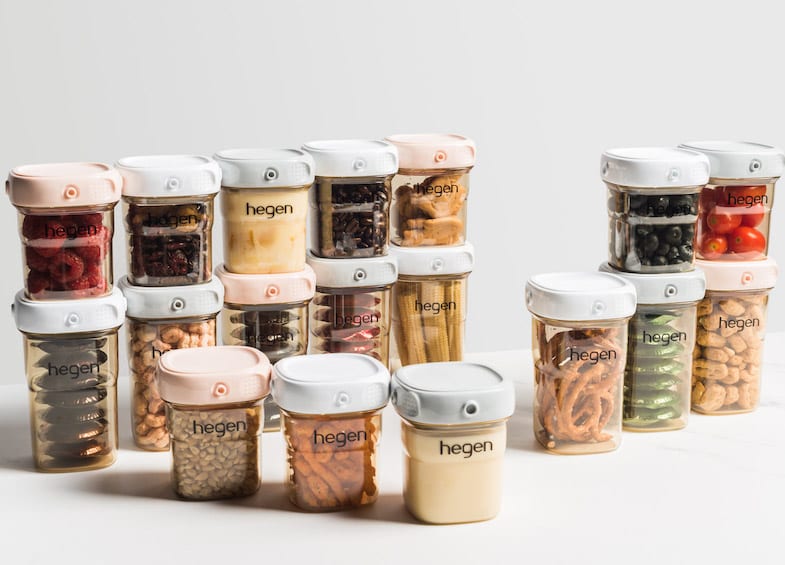 You only need one container
Thanks to Hegen's adapters, storage and feeding lids, you only need one container to express, store and feed. We love that these baby bottles get a second life as food storage!
And you only need one hand
Because mothers are the ultimate multi-taskers and rarely have both hands free, Hegen's containers feature a press-to-close, twist-to-open system. And yes, you can close the lids one-handed!
The design supports natural feeding
The elliptical, super-soft teat is designed to mimic a mother's breast for a natural latch-on and a seamless combo of breast and bottle feeding; the teat is off-centre to promote feeding in an upright position.
They're tough and safe
The Hegen range is made from PPSU, which combines glass and plastic for resilience and high temperature resistance. The containers are BPA-free and lightweight too.
And ergonomically designed
Hegen designed its bottles so that babies would find them easy to hold. Their square shape makes them easy to stack (this is the world's first stackable feeding bottle, in fact!). Nobody wants clumsy, space-hogging containers of expressed milk in the freezer.

Here's what our trio of mums loves about Hegen:
Rae: "I love how the bottles grow with a baby's needs. I can use the 150ml bottles to feed our newborn baby and subsequently up-cycle them as a snack cup for our elder kid or store pantry essentials. The containers are such a cute, fun way to organise the pantry and can be used for a lifetime! "
Bella: "The square, wide-neck opening allows me to fit in foods in various shapes and sizes. And I love how the size and shape fits neatly from our storage cabinet, to our fridge and into our baby bag!"
Kelly: "Not only is this the most stylish bottle I've seen, it's also the most functional. thanks to the one-hand lid closure and the wide, square shape perfect for food storage as well as milk. The square shape is also great for compact packing in your suitcase."

So, you've nailed bottle feeding and baby is happily milk drunk? Now take it up a notch with our top 3 #hegenhacks courtesy of Bella, Kelly and Rae:
* Have baby, will travel? Keep your baby kit compact by packing Hegen bottles that double as food containers. This means you only have to pack half the amount of items, saving space in your suitcase.
* Run out of toys to keep baby busy? Entertain your bubba with their Hegen snack containers! Little ones love playing with the snap-on interconnecting buttons. So simple but fun.
* Once you've moved on from bottle feeding, use Hegen's coloured caps to code the various foods you store for your little one – you'll know at a glance which snack to pop in your bag for a day out!

Honeykids readers get a Free Hegen PCTO™ Breast Milk Storage 5oz/150 ml (Tritan Limited Edition) with any purchase on www.hegen.com! Just enter the code iamahoneykidsreader16 (code valid till 31 Dec 2016)
Hegen is available online at www.hegen.com and Motherswork, Takashimaya and Isetan Department Stores.
This post is sponsored by Hegen.