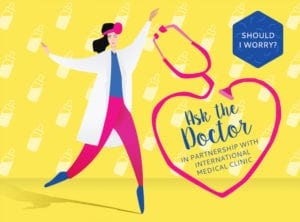 If you've already had a baby (or two or three), well done you! You've been on the rollercoaster of pregnancy and new motherhood, and made it through to the other side. In fact, you've not just made it through, but something has convinced you it's time to hit that ride again. But, falling pregnant just isn't happening as easily this time around, despite regularly hitting the sack with your man friend. You might be starting to wonder whether it has something to do with your age, and whether you should keep trying a little longer before seeing a doctor (our tips on staying sane during the dreaded two week wait might help). Many people go through this, so we asked Dr Tsin Uin Foong from International Medical Clinic to give us the facts on when to seek help, and how to boost your chances. Here's what she had to say…
Nine out of 10 couples in which the woman is under 35 will conceive naturally after one year of regular intercourse. If you've been trying for a year or more (or six months if you're over 35, as fertility can drop after this age) and have not fallen pregnant, consider seeking medical advice. If you're over 35 and have problems with irregular periods, or issues such as a previous ectopic pregnancy or surgery that may have affected your fertility, it's best to see your doctor sooner.
In the meantime, what can you and your man do to get your health in the best possible shape for fertility? Quit smoking, reduce your alcohol intake, maintain a healthy weight, and avoid sexually transmitted diseases. Men should also do their best to keep their testicles cool, and women should think about taking a folic acid supplement.
Then, other than seeing a doctor, what can you do to give yourselves the best possible chance of conceiving? Get busy, of course! Regular intercourse – we're talking every two or three days – will help keep sperm quality healthy (and most couples happy as Larry). While it can sometimes be hard to find opportunities to sneak into the bedroom as often as you'd like, try not to confine it to the time around ovulation only. All this does is create extra stress and pressure, and being stressed means you have less sex. Some couples find temperature and ovulation kits helpful, but on the flip side, they might also add extra stress or anxiety – you'll know what's right for you.
The general rule is, if you have any concerns, it's probably best to seek medical support sooner rather than later. Even if it's just to ease your mind so you can get on with trying to conceive while also getting on with life.
Dr Foong Tsin Uin, MBBS (London, UK), MRCGP (UK), Dip Pract Derm (UK), graduated from the Royal Free Hospital (Uni of London) in 2000. She became a member of the Royal College of General Practitioners (UK) in 2005.
 Originally from Singapore, Dr Foong was previously a Partner in a family practice in Swiss  Cottage, London, serving the needs of a large expatriate community. She also worked for 10 years in a central London Drug and Alcohol Rehabilitation Centre and in Palliative Care.
Dr Foong is based in IMC Katong Clinic in the East Coast.
Stay tuned for our next instalment of 'Ask the Doctor' with International Medical Clinic, the series where we deal with common questions about conception, pregnancy, post-natal issues, and paediatric health.
p. 6733 4440
www.imc-healthcare.com
This post is sponsored by International Medical Clinic.