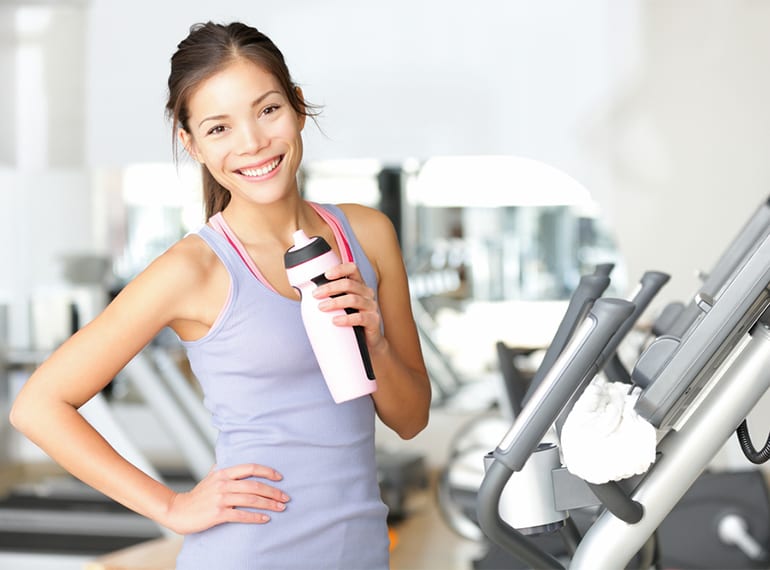 Looking for an exercise class that doesn't wallop you for big fees every month? We've found the affordable, short term and drop in membership options for busy mums...
With the New Year upon us, and a fresh determination to start taking some regular mum time out from the kids, our minds are turning to getting fit and losing a couple of those mummy midriff rolls we picked up after a glutinous festive season. But when gym memberships make us commit to a regular, often expensive, monthly payment which gives us zero flexibility, we often end up out of pocket and feeling guilty when we don't manage to get to an exercise class on a remotely regular basis. What we need are affordable options that fit with our busy parenting schedules… Voila: we give you the fitness centres and gyms where drop in, short membership options and wallet-friendly classes are the name of the keep-fit game. Strap on your trainers, parents!
At just $11 a session, which includes a workout, a pre-workout tea and a post-workout protein shake, the drop in sessions run by [email protected] are awesome value for money, and get great results too. Join a Power Lunch session at the Robinson Road studio which include piloxing, beach body or kickboxing classes, or head over after you've finished work for Evening Fit Club. It also runs Saturday morning keep fit sessions at 8am on the park connector near Simei MRT for those of you on the east side of town.
Robinson Road and Simei locations, www.wellnessatstudio.com
Gymmboxx
With six locations from Bedok to Jurong and everywhere else in between, you'll find a Gymmboxx to suit for sure. The gym equipment is available to use 24 hours a day and it also has personal training options. The 'pay per entry' deal sounds right up our hectic lifestyle street! There are also one month and one year plans available – get in touch to talk through what membership suits you best. 
Various locations; www.gymmboxx.com
Dennis Gym
Head over to either the Tai Seng, Simei, Farrer Park or Jurong branches of Dennis Gym and try a three-month membership to give you a chance to work out whether keeping fit at a gym really is something you can factor into your life. Do your own thing by using the gym equipment, employ a personal trainer to whip you into shape, or try one of the great classes (muscle toning sounds like something we definitely need) happening across all four locations.
Various locations; www.dennisgym.net
The Yoga Mandala
Add some zen into your life by taking a little time out for weekly drop in yoga sessions at The Yoga Mandala. We've tried and tested this one and love the bright, cosy studio and super friendly instructors, and the fact we can pay as we go ($220 for a package of 10 classes). There are also yoga instructor training classes if you want to take your love of yoga to the next level.
134B Telok Ayer Street, 068600; www.theyogamandala.com.sg
ActiveSG
If you are a citizen or a PR here in Singapore, then ActiveSG definitely needs to be on your radar. Set up to encourage the nation to live a better life through sport, Singaporeans are encouraged to sign up for a free membership and receive $100 credit which is valid for a year. Once you're up and running, the whole island potentially turns into one big exercise platform! There are programmes for ALL ages (kids too) from Aqua Aerobics to Tajiquan. Whether you fancy a team sport, a swimming lesson or just a good long sweat in a gym, there is something for everyone – just download the app and start booking!
Various locations; www.myactivesg.com
Sundays at the Park
The Health Promotion Board has been running regular fitness sessions since 2013 at around 70 locations all across Singapore, and is always adding to the types of classes and schedules available. Work up a Sunday sweat by trying everything from zumba to circuit training, boot camp to bollyarobics: all for FREE!
Various locations: www.healthhub.sg
Platinum Fitness
For a spot of lunchtime or post-work fitness, head over to the spiffy digs of Platinum Fitness in the CBD area. With yearly membership from just $90 per month (one of the more affordable opps we found for such a luxe gym) and drop in deals for $35 per session for non-members, there's plenty to keep you fit in this 24-hour gym. There's no pressure to sign up for personal fitness sessions, and classes are based on the popular HIIT (High Intensity Interval Training) concept.
6A Shenton Way, OUE Downtown Gallery, #B1- 04/05, Singapore 068815; www.platinumfitness.sg
HomeTeamNS Fitness Workz
You'll be fit 'n' fab in no time by taking advantage of the drop-in options at one of the three HomeTeamNS Fitness Workz studios dotted all over the island. Equipment is geared for complete cardio and strength training workouts, and if you're a member it will cost you from just $5.35 to walk in (non-members from $8.60). There are also affordable monthly options from $53.50 for three months of work outs, and if you head to the Bukit Batok branch you'll find a steam room and pool too.
Various locations; www.hometeamns.sg/fitness-workz-gym
Like this story? Here's more we think you'll enjoy:
HoneyKids top stories for 2018
The Midlife Kitchen: the recipe book we'll be using this year
Smoothie recipes the whole fam will love
Sneaky ways to get the kids to eat greens
Don't forget to subscribe to our weekly newsletter and follow us for fun moments on HoneyKids Instagram!