The learning experts at The Little Skool-House share some cool ways to keep our kids busy at home
The wonderful world of toddlerhood is a fascinating one. With their boundless energy and insatiable curiosity, they certainly keep us on our toes 24/7. That's why as parents, it's important that we take advantage of this important time and nobody knows this more than the folks at The Little Skool-House. In fact, its teachers make the extra effort to ensure that learning is always interactive and fun. And because the educators here are the experts when it comes to engaging little ones, we've been getting the lowdown on cool ways to set up our own learning activities at home.
Butterfly bottle caps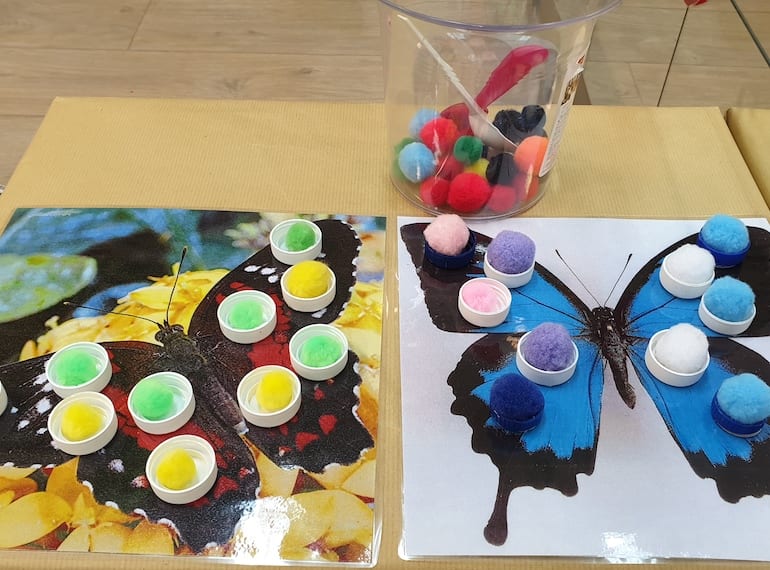 What you need:
Photo of butterfly or any insect your child is interested in
Plastic (recycled) bottle caps
Pom-poms
Glue
What to do:
Glue on the bottle caps onto the photo of your insect of choice, with the top of the cap facing down
Let your child place the pom poms into the bottle caps 
Why The Little Skool-House loves this activity:
It's a great way to work on your little one's hand-eye coordination and it encourages creativity as kids are in charge of which pom poms to choose. You can also try this activity with any photo that piques your kid's interest!
Sensory board
What you need:
A board and photos or drawings of insects
Interesting materials of different textures (stickers, cotton wool, foam, ice cream sticks, yarn)
Glue
What to do: 
Attach photos or drawings of the insects on the board
Glue the materials onto the photos
Ask your child to feel the different textures
Why The Little Skool-House loves this activity:
This activity teaches children about the different sensations they'll feel in their everyday lives. They'll also learn about insects and what they look like!
To keep your toddler busy, create your own learning corner in your home. It's an easy way to contain the mess while still keeping bub engaged and learning. At The Little Skool-House, teachers setup their learning corners based on the current lesson theme.  We wish we'd been there for "Insects"! Teachers sourced real materials and brought nature into the classroom for kids to learn through tactile and hands-on exploration.. The children had great fun while making connections to the real world.
Take learning opps beyond the classroom
Learning beyond the classroom is a given for any tot, and by creating plenty of learning opportunities in the home, you'll find that they'll embrace the chance to try different things. Curious, contained chaos is, after all, the best kind of learning: not to mention enormous fun for your little one AND you! To learn more about The Little Skool-House, book a centre visit here and get a free wet bag worth $29.90*.
*Terms and Conditions apply
This post is sponsored by The Little Skool-House