Always wanted to go to the Maldives? Per Aquum Niyama has perfected the luxe family vacay in paradise.
A luxury vacation in the Maldives with one spectacular kids' club? Per Aquum Niyama shows us how to do a family holiday in paradise, in serious style. Take us back, please!
If you've always had the Maldives at the top of your travel bucket list, now is the time to do your dream family holiday, people! We say life is too short to miss this piece of paradise, and it's a surprisingly quick family getaway from Singapore. A four-hour direct flight and a 40-minute seaplane ride will take you to Per Aquum Niyama, one very special pocket of the world. This is one of those rare resorts that captures a boutique feel but has all the luxe treats you could want up its sleeve: award-winning restaurants, a divine spa, snorkelling and diving trips – and we'll say it: the best kids' club we've seen on our travels. It's no wonder Mr & Mrs Smith thinks this place is a gem. And we think we may have been ruined forever after this stay too…

Yes, yes, there's a part of us that wants to ditch the kids and keep this paradise all to ourselves. Come here and you'll be seriously thinking of a second honeymoon. But you know what? This is one of those special places you'll always wish you'd experienced as a family – and Per Aquum makes the luxe vacay with kids very, very enticing with two adjoining islands: one dedicated for chilling out and one for play. We know you don't need convincing, but here are 15 reasons to get in on the fun, stat.
1. The aerial view of the atolls
Did somebody say seaplane ride? The flight to Per Aquum will take you over scatterings of beautiful atolls, and it's a once-in-a-lifetime view. The planes are small and you can see the pilots in their cockpit at work, which kids will totally dig.
2. That water
Prepare yourself for some pretty outlandish reactions when you post the holiday snaps on Facebook. No filter needed. There's something about the Maldivian waters that's so beautiful it hurts. That gin-clear expanse of turquoise and blue will make you want to toss aside your welcome cocktail and dive straight in.
3. Waking up to this
Another pinch-me-to-make-sure-it's-real moment: wake up and leap straight from your pad onto the powder-fine sand of the beach.
4. One kick-ass kids' club
We may be defeating the entire purpose of the kids' club here, but we wanted to hang out here with the little people (we may have hijacked the trampoline). The Explorers kids' club for little guys 12 months to 12 years old is the bomb. It's run by a lovely team of qualified carers from around the world, and it could not be cooler with its circus-vibe interiors, playground in the shade and own splash pad with water fountains. New activities are organised for every hour: think hermit crab racing, pizza making and dolphin spotting, for a start. Little ones have a cosy, quiet space for snoozing, and all nappies and meals are taken care of. 
5. Dine up in the trees, with the sand between your toes… or underwater!
One island resort with eight dining options? Per Aquum pulled out all stops on this front, and it's picked up awards with good reason. Enjoy a perfect paella by the beach at Blu, a unique mix of African and South American fare at Tribal, or take the boat out for an alfresco experience at The Edge, where you can watch needle fish dancing by the pier during dinner. There's even an underwater bar where you can do Champagne breakfast. Our fave? An Asian feast in the fantastical treehouse restaurant, Nest. We also loved The Deli, where you can pick up smoothies, sandwiches and ice-cream when you're after something quick and kid-friendly.
6. The coconut guru
The man you really need to know on the island is Imran, the 'coconut guru'. You'll spot him on his bike handing out baby coconuts, which he'll slice open for you on the spot so you can sip fresh coconut water!
7. Unbelievably calm, clear waters 
These waters are calm, clear and ideal for kids to safely get into some snorkelling. Hop on a speed boat for a little trip out to one of the nearby coral gardens and you'll all be itching to explore the underwater scenes you can see from the boat (seriously, that water is that clear). You'll spot sea turtles, rainbow fish and mind-blowing coral formations.
8. The dolphins!
Now this is how we've always wanted to see dolphins: in the wild, in a spontaneous, magical moment. Dolphins love the waters around the resort, and we were treated to the sight of a pod dancing by our boat as we returned from our snorkelling jaunt. We also spotted them during a morning jog on the beach – completely worth rising early for!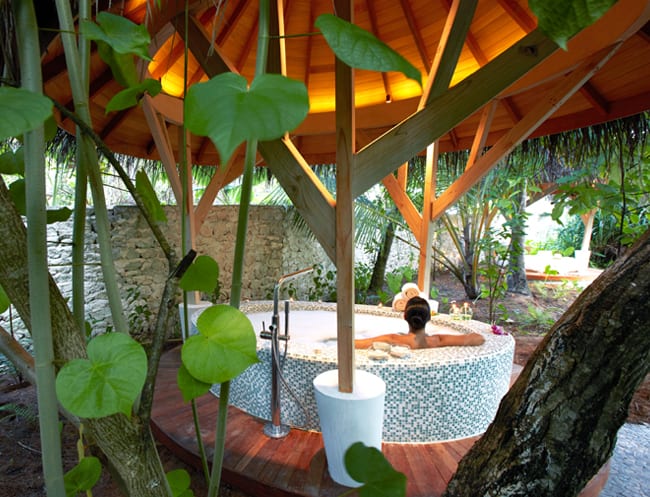 9. The spaaaaaaah
Leave the kiddos with Dad or enlist the babysitting service (see below) for one amazing spa session. You'll open your eyes at the end of your treatment to a stunning view of the lagoon. Chill out in the spa's tropical garden afterwards. Bliss. Feel like spoiling the whole fam? Check out the Family Massage Workshop or treat the little ones to a kid-friendly massage or mani.
10. You can ditch the mountain of baby gear
Have baby, will travel? Now this is a game-changer: Per Aquum has all the essentials waiting for you. Swish beach-friendly strollers, bottle warmers, baby monitors, high chairs, baby baths, toys and essential supplies are all at your disposal. Leave that extra suitcase at home!
11. Do as much or as little as you want…
In between all of that relaxing and floating, you might want to join a morning yoga session by the beach, or take one of the kayaks out for a spin. If the kids need to burn off some energy, join them for a bit of beach volleyball. We also loved the spiffy Electra bikes that you can borrow to zip around the island.
12. And this is where you'll retreat at the end of the day…
Families can book any studio, suite or pavilion (extra beds for kids are US $40 a night), but the one-bedroom Beach Pool Suites and two-Bedroom Family Beach Pavilions are specially designed for fams: think swinging lounges, personal plunge pools, complimentary ice cream and a popcorn machine! Even the bathrooms with their open-air showers are spectacular. If you've got older kids you don't need to watch like a hawk, indulge in an over-water bungalow for direct access to that gorgeous lagoon – go straight from bed to your morning dip! (Rooms are from $1,123 per night excluding tax.)
13. It's the little things
Are the folks at Per Aquum reading our minds? Arrive at breakfast on a super sunny morning, and you'll be greeted with a shot of fresh, chilled juice. After a lazy lunch, your waiter might offer to polish your sunglasses. When you settle down to read a book on the beach while the kiddos play in the sand, the staff will bring over a basket of sunscreen… and along with your iced water, you'll find a little Evian atomiser to spritz your face. Nice touches, Per Aquum.
14. You can finally have some alone time
Did you get the memo on the kids' club? Make the most of that magical place, people! And if you want to do dinner and a night at that underwater bar sans kids, babysitting is available from US $20 an hour.
15. The loveliest, loveliest people
It's pretty hard to land anywhere in The Maldives without finding a slice of paradise, but we all know that service can make or break a holiday. We met with nothing but genuine smiles, good conversation and great help. We loved seeing the staff happily taking toddlers for walks around the restaurant during breakfast to give parents a break, and our thakuru (or 'butler'), Sham, took us on a buggy ride to his favourite pocket of the island to share the view. These guys are just as giddy to be spending their days in paradise as we are.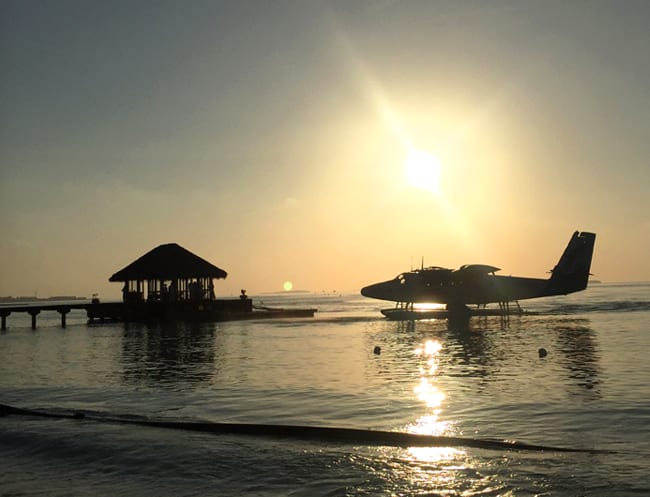 Getting there:
You'll need to fly to Malé International Airport, which is a four-hour direct flight from Singapore. Make sure you choose a carrier that will land before 3.30pm local time, as the seaplanes only operate during daylight. Factor in an overnight stay in Malé if you choose a later flight. Per Aquum will meet you at arrivals and escort you to its lounge while you wait for the seaplane transfer.
Book it!
Mr & Mrs Smith gets you the best rates, guaranteed, as well as a little something extra on arrival at every hotel. To book, call toll free at 800 905 326 or visit mrandmrssmith.com.
The writer was a guest of Per Aquum Niyama and Mr & Mrs Smith and (please don't hate her).