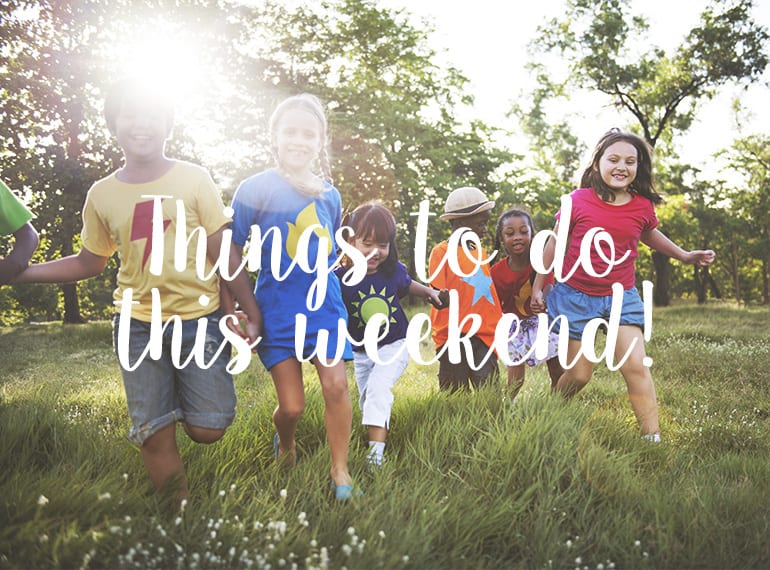 We're getting ready for National Day weekend with a climbing carnival, a picnic under the SAF flypast and storytelling workshops...
National Day is all anyone can talk about and we can't wait for an extra day off on Thursday. After that it's business as usual and we'll still have the weekend to think about. We've got you covered, there's at least 10 things you can get stuck into this weekend.
1. Celebrate National Day with a concert
Feeling patriotic? Celebrate the nation's birthday with an all-Singaporean line-up of songs by homegrown composers played by the SSO and conducted by Darrell Ang. From the Vanda Concerto to the classic "Home" by Dick Lee, complete with choir, you'll be in for a treat. Majulah Singapura!
When: 11 Aug, 7:30pm
Where: Esplanade Concert Hall
Cost: $68, $48, $38, $28, $15
www.sso.org.sg/orchestra-season/sso-national-day-concert
2. Head to a learning festival to find out how to do some good
Want to know how to make a difference? Sign up for workshops on how to upcycle, art therapy and learn how to build relationships with people around you. Attend the panel session to find out what youth volunteers can do to address poverty in Singapore and be inspired to help the community
When: 11 Aug, 10am-10pm
Where: Youth Corps Singapore, The Red Box, 113 Somerset Road, Singapore 238165
Cost: Free entry
www.facebook.com/events/2467261739985256
3. Tell stories at the Imaginarium
The Singapore Art Museum is bringing more workshops for kids aged seven to 12 years to stretch their imaginations. They'll learn how to illustrate and tell stories under the guidance of Imaginarium artist Lee Xin Li (Pok Pok & Away) and illustrator-storyteller Darel Seow.
When: 12 Aug, 2.30pm – 4.30pm
Where: Singapore Art Museum, SAM at 8Q, 8 Queen Street, Singapore 188535
Cost: $20
www.apactix.com
4. Picnic under the flypast
The festivities continue over the weekend with The Republic of Singapore Air Force (RSAF) 50th anniversary flypast Marina Barrage. This aerial treat will feature more than 20 RSAF aircrafts including F-15SG and F-16C/D fighter aircrafts. Expect a picnic bright and early with plenty of games and craft activities to keep the kids busy including art jams, sand art and a parent-child bonding activity to make a rocket and parachute from scratch. Kids will even be able to snap a photo in a RSAF uniform!
When: 11 August, 8am-4pm
Where: Marina Barrage, 8 Marina Gardens Drive
Cost: Free
www.pub.gov.sg
5. Pick up some serious bargains at Carouselland
Love online shopping? Carousell is bringing all that and more to the largest indoor marketplace with over 500 booths from regional sellers, workshops, photo spots and a treasure trail. Our wallets are ready.
When: 11-12 Aug, 12-9pm
Where: Marina Bay Sands Halls A & B
Cost: Free entry
carouselland.sg
6. Get ready to flaunt your flute
If you're interested in the Traditional Chinese Flute, the Dizi, The Asian Civilisation Museum has a line-up of flute-related concerts, workshops, masterclasses and dialogue sessions to celebrate the humble instrument. Learn all about this woodwind wonder and get ready to flaunt your flute.
When: 9-12 Aug, 12pm-4pm (Thurs), 10.30am – 9pm (Fri-Sun)
Where: Asian Civilisations Museum, 1 Empress Place, Singapore 179555
Cost: Various
www.facebook.com/events/2752599061545650
7. Party after dawn at Camp Kilo
Celebrate ethical living, sustainability and eco-consciousness at the After Dawn BBQ Block Party. Shop at the vendors market and just before you drop, recharge with workshops at the Blanket Fort while the lineup of DJs provide the tunes. There will be carnival games, drinks and plenty of nosh to keep everyone happy.
When: 12 Aug, 2pm – 10pm
Where: Camp Kilo Charcoal Club, 66 Kampong Bugis #01-01, Singapore 338987
www.facebook.com/events/266462090574469/
8. Carouse at the pet carnival
Treat your furkid to a day out at the "Our Little Friends" Pet Carnival. Start the day bright and early with a Furry Walk around the estate at 8.30am, attend pet workshops, grooming sessions, adoption drives, free health screenings, a farmers' market, and showcase your furkid's talents at the fancy dress competition. Kids will even get a chance to snap a picture with a parrot.
When: 12 Aug, 9am – 2pm
Where: Basketball Court next to Block 114 Bukit Purmei Road
Cost: Free
www.facebook.com/events/2140720015941567/
9. Challenge yourself at a climbing gym
Gorilla Climbing Gym is turning one and it's celebrating with a climbing carnival. Think boulder competitions, climbing challenges (even doing one while blindfolded!), carnival games, a slackline contest and a cheeky beer pong contest (a family-friendly version, of course). Those who prefer to keep their feet on the ground can try the carnival games and just dig into a free flow of carnival snacks including popcorn, candy floss, nachos and ice cream.
When: 11 Aug, 10am – 7pm
Where: 750B Chai Chee Road, #01-02 Viva Business Park, Singapore 469002
Cost: Climbing entry: Member $35, Guest $40; Without climbing entry: Member $25, Guest $30
gorillaclimbing.com/gorillaturnsone/
10. Appreciate art at the Artary
If you have a budding Da Vinci or Picasso on your hands, head to The Artary for an arts appreciation class. The Artary is holding an open house for its new campus in Westgate and is definitely worth checking out for art lovers big and small.
When: 12 Aug, 10.45am – 3.45pm
Where: Westgate, 3 Gateway Drive, Singapore 608532
Cost: Free
artary.sg/jurong-westgate-open-house
Like this story? Here's more we think you'll enjoy:
Guide to National Day for the whole fam
53 fab things to do in Singapore
Booked your tix yet for the F1 Grand Prix?
Mums, here's how Hopscotch makes going back to work easy-peasy
Don't forget to subscribe to our weekly newsletter and follow us for sneak peeks and fun moments on HoneyKids Instagram!