There are just some things you can't buy easily overseas, so if you've ever wanted to smuggle your favourite sambal in your suitcase, this story is for you.
Now that National Day is coming up, you're probably due for another long round of family visits or, if you're lucky, a family holiday from Singapore! Now as proud foodies, we love all kinds of foods from around the world, but we're just going to come out and say it: when we're overseas, the cravings for Singapore comfort foods strike hard. You know what we mean.
We've shared our Top 10 local faves we can't live without and have stocked up on during stints living abroad, brought to family and friends overseas, and yes, brought along on our holidays. What can we say? We love Singaporean food. Just don't be that guy who boils instant noodles in the hotel kettle, 'kay?
(NB: Don't get too attached in case your goodies don't make it through customs, especially in Australia. Check the customs laws for your destination, and make sure all your food is commercially sealed and packed in your check-in luggage.)
Noodles
You might be surprised, but some cities just don't have a good supply of Asian groceries – have you shopped for noodles in Florence lately? Whether it's instant ramen for a late-night snack or egg noodles for homemade hokkien mee, bring a stash (dried, of course!) and pack them in a box to prevent crushing them. We won't judge you for bringing your favourite flavour of cup noodles. Kids love the Mamee Monster? Just make sure it's not an everyday treat, and use half the flavour sachet as it's high in sodium. 
Paste packets (hello, chicken rice and curry!)
Have we mentioned paste packets just aren't the same overseas? We just couldn't live without our chicken rice and with the paste (it's okay to cheat, we won't tell anyone), it's an easy one-pot meal. With a packet of curry paste and a can of coconut milk from Tesco, you can easily whip up a decent curry.
Mushrooms and fungus
Dried mushrooms are a perfect addition to any veggie or soup dish, and who doesn't love a bit of shiitake mushroom or wood ear fungus? They come dried in big packets and you can easily rehydrate them in a bowl of water and pop them in broth or cut them and fry them up.
Powdered drinks
We all love our Lipton, Twinings and Cadbury's Hot Chocolate but there's just no substituting Singapore drinks. Make it easier on yourself and get the multipack Milo sachets for breakfast when the kids need their fave pick-me-up, or instant kopi or teh tarik for that kopitiam taste.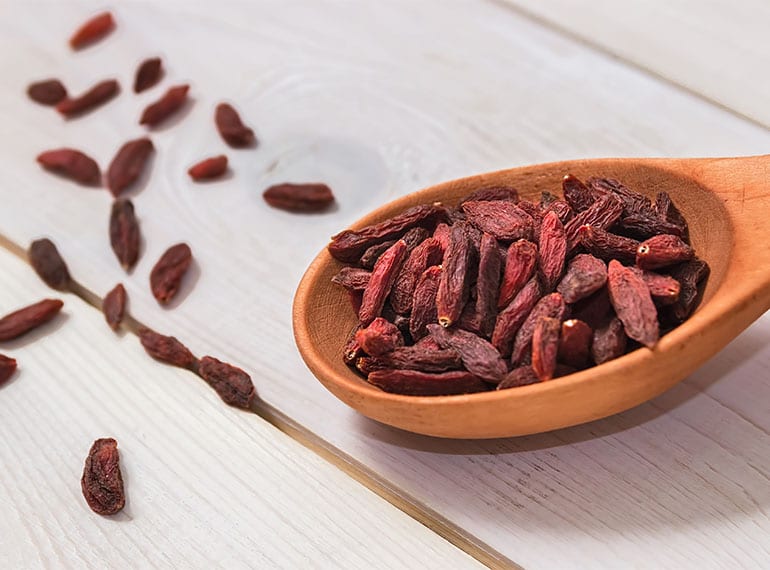 Goji berries
This sweet superfood is known for its medicinal properties and tasting amazing when added to salads, meat and veg dishes, porridge and even tea! They're sold dried in packets here and last for ages. Sure you could probably pick some up at Whole Foods for a small fortune, but who's got time for that? 
Sambal or chilli sauce
We have strong feelings about our favourite sambals and chilli sauces. Taking back a jar to season an otherwise boring dish is a must. HoneyKids ed Selina confesses to bringing her fave (Two Rabbits Smoky Chilli) every time she goes back to Sydney and now has to bring extra for friends who are now hooked. Double bag to prevent spillage. Trust us.
Bak kwa and lap cheong (Chinese sausage)
I've braved customs for some decent-tasting fried rice and some tasty cured jerky. Both come dried and individually packed, so just make sure you look up customs restrictions (e.g. calling it jerky, not exceeding the weight limit) and proceed at your own risk.
Ikan bilis and baby shrimp
Ikan bilis and shrimp are used in some of our fave dishes like nasi lemak and fried rice. There'd be something missing without that special fishy crunch. A handful fried up to garnish rice or noodles makes all the difference. Especially when you live in Cornwall like my poor sister and ikin bilis is nowhere to be found. 
Kaya jam
Ahh, sweet, sweet coconut jam toast, let me count the ways I love you… just keep your supplies of kaya jam under the check-in weight limit!
Keropok (dried snacks)
Whether it's seaweed, prawn cracker or salted egg fish skin chips, having a crispy, salty treat is the absolute best for munching on long trips (and seeing your relatives' and friends' faces contort as myriad foreign flavours hit them).
What are your favourite local foods to bring overseas? Let us know!
Photography (top image): Selina Altomonte
Like this story? Here's more we think you'll enjoy!
Nyona food, kueh and pretty Peranakan tiles: Chong Wen Ge cafe
Guide to Singapore's Chinatown: Where to eat and what to see
Peranakan culture at Katong Antique House
How to order kopi and teh like a Singapore local